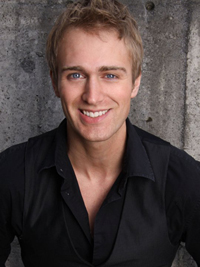 An Oregon native, TY BOICE is an award-winning theatre artist with stage credits all over the great Northwest including Seattle (Closer, Balagan Theatre; Much Ado About Nothing, Wrecking Crew). He's the founding Artistic Director and an acting company member of the critically acclaimed Post5 Theatre in Portland, dedicated to producing fresh, contemporary ensemble-based productions of Shakespeare's works. Most recently, Ty performed in the title role in The Great Gatsby last fall, and is currently performing as Hamlet in Hamlet.
Ty will portray Joe Pitt, an unhappily married Mormon struggling with his sexual identity while advancing his career as a clerk in the U.S. Court of Appeals.
Fun Fact: Ty was run over by a tractor when he was 7 years old.
How did you first encounter Angels in America?
I was given the play several years ago, as monologue suggestions for the character of Joe Pitt (life has a funny way of working out). 🙂 I instantly recognized it as a timeless and powerful piece of theatre. Joe became a dream, that is now becoming a reality.
What's the most challenging role you've tackled?
Well, I've had the fortune of playing some tough ones, Dan in Closer (at Seattle's own Balagan Theatre), Jay Gatsby, Macbeth, Prince Hal, Tom Joad, Romeo and John Merrick in The Elephant Man. They were all challenging and greatly rewarding in their own way. I am about to play Hamlet and, hands down, this is already the greatest and most difficult pursuit.
What do you love to do in Seattle?
Kicking rocks on Capitol Hill. I did some growing up doing theatre in that neighborhood, in this great city!