Malika Oyetimein, featured director for Intiman's new Director's Lab program, moved to Seattle just nine months ago — and already our city is buzzing about her unapologetic, socially progressive work.
We checked in with Malika about her passion for theatre, her impressions of Seattle, and – of course – BOOTYCANDY.
On the kind of theatre she loves to make:
The theatre that I create looks like the world we live in. This world is messy, complex, and heartbreaking because the people who inhabit it are – and that's okay. My work reflects that. It's in your face and unapologetic. That what theatre is: a place we go to have our values questioned and our beliefs challenged. I want the theatre I make to shake up the world, one audience at a time."
On joining Seattle's theatre community:
"I'm learning that Seattle takes chances on new faces. I'm excited by this city that isn't afraid to reach out to new talent -and there seems to be a lot of opportunities for small companies and emerging artists. Coming from Philadelphia, a community I was completely in love with and immersed in, I didn't know what to expect. I'm amazed that after being in Seattle for only eight months, I've already been embraced by this community."

On getting inspired by Intiman's mission: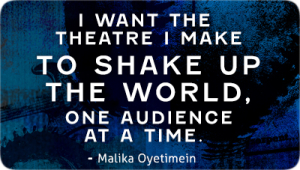 "I came to Seattle for the first time in 2011. My sister had just moved here and she told me there was a really cool company called Intiman that I would love. The show we went to see was Valerie Curtis-Newton's all-African American production of All My Sons. I remember afterwards walking up the steps by The Cornish Playhouse water fountain, telling my sister that I wanted to direct for this company one day."
On why she's excited to join the Intiman family:
"Directing for Intiman is a dream manifested. I remember looking at season programs and being like: Wow! Look at the risks they're taking. I've known from the beginning that this was a company I wanted to be a part of. Now I'm directing Bootycandy and it feels as if I've come full circle."

On being commissioned as a director for Intiman's production of Bootycandy:
"I'm thrilled that my Seattle debut is being made with an innovative, beautiful show like Bootycandy. Being trusted with this big, bold story and being allowed to helm this production when only Robert O'Hara has in the past feels amazing.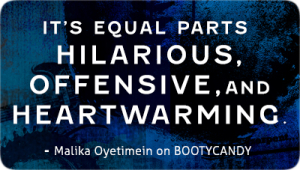 On why Bootycandy will surprise you, choke you up, and make you think:
"You've never seen anything like this show before. It's equal parts hilarious, offensive, and heartwarming. The play isn't easy, you know? There are sections in this play that deal with race and sexuality and it's uncomfortable. And it should be, these are not easy topics– and Robert O'Hara has always said that he's glad about that – he wants you to choke on this play. We should have to work to swallow and digest these topics. I also love that the protagonist is a African American homosexual male – how many plays have you seen with that main point of view? It's beyond time for us to start getting into these stories."
On why you're going to connect with this show:
"If you've ever felt lost and tried to find yourself than you'll see yourself in Bootycandy. It's a story that explores relationships, family, and the complexities of figuring yourself out. That's something we all can identify with. Self discovery and acceptance is universal."