Intiman Theatre's Emerging Artist Program kicked off this week with a series of workshops with theatre professionals, equity training and a barbecue. See them perform at our Emerging Artist Showcase August 4-6. RSVP Here.
For the third year in a row, Intiman is producing the Intiman Emerging Artists Program (IEAP), a free program that brings up-and-coming diverse local artists together during the summer for professional training and development that prepares them to work professionally in the region. Intiman Theatre is proud to welcome 20 artists to our 2017 Emerging Artist Program. This week they are getting to know each other (and Seattle) as they settle into this intensive summer program.
This year's Showcase Production will feature performances by our Emerging Artists, with leadership and guidance from Co-Curator Sara Porkalob. Audiences will have the opportunity to hear original stories that illustrate the new American dream.
"The Seattle community is full of narratives that deserve a full voice, and having a seat at the table with Intiman means I can give power to those narratives," Porkalob said. "I'm learning that our group of people this year are more awesome than we thought. They are thrilling, hilarious and moving. I'm so excited to work with them.
This week our 2017 cohort learned from local artists as part of the program's intensive boot camp week. In the first five days, 20 artists spent over 60 hours in 15 workshops and meetings covering topics of racial equity, storytelling, viewpoints, teamwork and much more.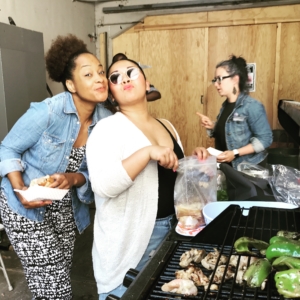 Former emerging artists and local artists including Alice Gosti, Timothy Piguee and Desdemona Chaing came to share, teach, listen and create  — all to prepare this year's artists for their performances.
Day 1 ended with a barbecue where Emergers had a chance to get to know each other and reflect.
"So far the program has surpassed my expectations," Emerging Artist Kenju Waweru said. "I'm honing my craft with such a diverse group of artists and Sara's guidance and mentorship."
(Photo: IEAP Facilitator Dedra Woods and Co-Curator and IEAP Artistic Lead Sara Porkalob.)
2017 Emerging Artist Showcase


Free to the public


The Marleen and Kenny Alhadeff Studio Theater at the Cornish Playhouse
Click on a date above to reserve your seat.
Limited seating available at the door.