INTIMAN THEATRE ANNOUNCES NEXT CO-CURATOR
Artistic Director Elect Jennifer Zeyl and Executive Director Phillip Chavira are proud to announce KJ Sanchez as the 2018 Co-Curator, effective January, 2018.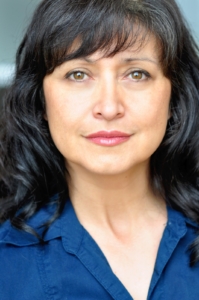 SEATTLE, WA (December 4, 2017) — Acclaimed playwright and director KJ Sanchez has been appointed as the third Co-Curator at Intiman Theatre.
In 2016, responding to a demand for inclusive storytelling, Intiman partnered with leaders in our community who engage audiences and champion stories that are too often unseen, starting with notable local and national artist Valerie Curtis-Newton. With the success of this effort, Intiman  solidified and strengthened the Co-Curator position as an official change to its leadership model. In 2017 Sara Porkalob brought additional inclusive and diverse stories to the stage, and served as lead educator on the Emerging Artists Program, as well as the creator of the hit musical DRAGON LADY.
"Jen and I dove head-first into thinking about programing for all of Intiman's audiences – past, present and future," says KJ Sanchez on her vision for working with Intiman. "I have been a huge fan of Intiman's bold, inclusive and high-spirited work for years and to be a part of this next season is an honor and absolute delight".
Sanchez is the founder and CEO of American Records, dedicated to making theater that chronicles our time, and is also the Head of Directing in the MFA program at University of Texas Austin. Sanchez select directing credits include: REENTRY, which Sanchez co-wrote, produced, and toured throughout the US and internationally and has also been produced at over 50 military bases and hospitals, UNITY 1918 (Gene Frankel Theater), THE UPSTAIRS CONCIERGE (The Goodman), THE ELABORATE ENTRANCE OF CHAD DEITY (Actors Theatre of Louisville), and SEVEN SPOTS ON THE SUN (Cincinnati Playhouse, LCT Award). Sanchez's plays have been produced at (select list) Berkeley Rep, Playmakers Rep, Asolo Rep, Actors Theatre of Louisville, Two River Theater Company, Baltimore's Center Stage, Frontera Rep, Round House, Cornerstone Theater Company and Off-Broadway at Urban Stages and Here Arts. Sanchez is a Fox Fellow, Douglass Wallop Fellow, and a recipient of the 2014 Rella Lossy Playwright Award.

"I'm beyond excited to be partnering with KJ in the selection of our next season.  She brings light, perspective and thoughtfulness into every room she enters" says Jennifer Zeyl, Artistic Director Elect. "How trilling that Intiman shares this room in 2018".
2018 Season tickets will be on sale in January, 2018. For interviews, information, and photography, please contact Phillip Chavira at phillip@intiman.org or (206) 726-5095.