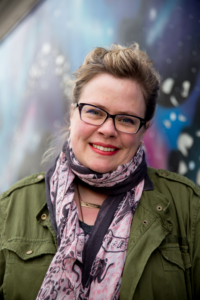 Intiman Board President Kevin Malgesini spoke with Jennifer Zeyl on her recent appointment as Artistic Director at Intiman Theatre, located in Seattle, WA. Jennifer talks of her proudest moments at the company and working with fantastic artists over the last two decades.
KM: You have been working in the arts here in Seattle for almost 20 years and in so many different roles, why take on the Artistic Director role at Intiman now?
JZ: My idea of leadership is comprised of several core values. Intiman is at a place as an organization, where I am able to implement these values.  I love figuring things out; working on premieres, devised work or completely off-roading.  I've always maintained that artistic and production are two sides of the same coin.  What we do and how we do it are equally important and I'm very comfortable guiding both of these departments.  I've developed a saying when thinking about our work at Intiman.  "Pave the road behind you."  I think this mantra is one part – lead by example, one part – don't be afraid to fail, and one part – make it easy to follow suit.  I'll use POWER: From the Mouths of the Occupied as an example.  In 2016, we engaged with Patrisse Cullors (Co-founder #BLM) to bring you POWER.  Working with a community organizer, Patrisse centered the telling of nine individual, personal stories of Black community members' experience with state violence.  In 2017, we will host 10 Black directors from Detroit, Oakland, New Orleans, Austin, Baton Rouge, Urbana, NYC, DC, LA in a two week residency in Seattle to learn methodology from Patrisse. In 2018, we expect to see POWER performed in 10 cities nationwide.
KM: What does it mean to be a woman working in theatre today and how do you plan to use your leadership position to breakdown barriers for other women in the field?
JZ: Specifically, as a white woman in her 40s with a masters degree in Scenic Design – a traditionally male-dominated area of theatre –  my path has still had incredible privilege. Leveraging that privilege to empower other womxn experiencing access issues is the cornerstone of my work ethic.  One way I create space and jobs for other womxn in theatre by moving on to leadership positions and hiring them to make the art.
KM: What is exciting you in American Theatre today?
JZ: The rising agency created by voices of first generation Americans taking the spotlight excites me immensely.  I'm thinking of the work I've seen by Ahamefule J. Oulo, Sara Porkalob, Vichet Chum, and Ryan Haddad.  I am also very compelled by divised/documentary theatre, thinking of artists like Anna Deavere Smith and KJ Sanchez, as well as the intersection of performance art and traditional theatre-making.
KM: So Intiman will continue the co-curator model, with a Person of Color as the highest tier contractor of the season?  What do you gain/lose as an Artistic Director when you share vision building in this way?
JZ: The co-curator model is extremely exciting for me.  I gain the opportunity to mentor and be mentored, and I lose some autonomy.  I learned so much from Valerie Curtis-Newton in 2016 centering 20 plays by Black Women in our season.  How powerful, in 2017, to have Sara Porkalob oversee our Emerging Artist Program as well as write and perform her beautiful production DRAGON LADY! The vision possible with collaborative alignment is always stronger than single perspective leadership.
KM: What are you excited about in your partnership with Intiman Executive Director Phillip Chavira, and working alongside the Board of Trustees?
JZ: I'm excited by Phillip's big, beautiful brain and heart.  He brings a level of financial expertise to his role here that is unique in non-profit.  He and I love hosting and feeding people which builds and sustains community between artists, donors, staff, and board members. I'm thrilled to be directly reporting to our Board of Trustees.  Their dedication to our strategic plan and the core values of Intiman is very motivating for me as leader. Each member brings a unique perspective and professional skill set, while continuing to encourage staff with their enthusiasm and investment in our mission and work.
KM: What do you think is the biggest challenge for you in this new role at Intiman?
JZ: Frankly, my biggest challenge stepping into this role is that I'm an introvert.  I'm very comfortable doing my work just out of the spotlight.  Social events are very costly to me energetically and I need to restore my energy regularly with long periods of time alone.  When I prioritize this, my ability to be present and focus on the artistic success of my work increases exponentially.
KM: Your long career has included so many opportunities to train/mentor/influence a new generation of artists.  Intiman is committed to this via our Emerging Artist Program and our High School Theater Tech Program Starfish.  If you could add another program tomorrow, what would it be?
JZ: I would add a touring company with employment opportunities for the graduates of the programs you list above. Access and availability of quality live-storytelling experiences is an urban stronghold.  I would love to be able to bring stories to new communities where fewer options are available.
KM: Finish this sentence, "If I had $1 million I would…"
JZ: Leverage it to raise $5 million.  Intiman's need for a strong hub of operations is eminent, and I would like for us to look at how we continue to grow operations and find a solution to this need.  We're ready for a growth spurt and are acutely poised to become regional leaders in radically inclusive storytelling.
KM: Which is your favorite play you've seen in the last year?
JZ: Ooof.  That's a tough question.  I probably saw around 100 productions last year and so many of them were compelling for different reasons.  I have to go with ACT's production of TRIBES.  I loved the story, access, perspective, design, acting and direction.  (Though, nothing has ever raised the hair on my arms quite like Ahamefule's NOW I'M FINE, every time.)  
KM: What is a local arts organization, other than Intiman, that inspires you?
JZ: I'm a huge fan of Arts Corp; from their 'Make Art Anyway' motto to their youth programs and social justice mission. I'm grateful to share a city with them and continue to learn from their leadership, teaching artists and students.
KM: What are you most proud of accomplishing in your time so far at Intiman and in Seattle?
JZ: ANGELS IN AMERICA (Intiman 2014) – Being asked to design and produce this two part epic in rotating repertory was the greatest artistic honor of my life.  Having seen the Trinity Repertory Theatre production in 1996 as a last year BFA candidate, the goal of designing it one day took deep root in my heart. TROUBLE IN MIND (Intiman 2013, Guthrie Theatre 2016) Alice Childress + Valerie Curtis Newton = magic.  I designed TiM as part of our four show rep season in 2013 and, under the stewardship of Andrew Russell, the Guthrie Theatre hired Val to direct as well as Intiman's team: Melanie Taylor Burgess (costume) and me (set) to design their production in 2016.  An outstanding Intiman mentee is Shelby Choo (Props Intern 2014, Technical Director 2017). Shelby was a student at Cornish when she joined our Prop Shop as an intern on ANGELS IN AMERICA.  She learned some pyrotechnics and fabrication skills from our Props Master Katherine Stromberger and Artisan Andrea Bush.  In 2017, she was our Technical Director for our STARFISH PROJECT at Franklin High School and  DRAGON LADY.  I could not be more proud of her accomplishments.
KM: What should we expect to see at Intiman in 2018?
JZ: Without spilling all of the beans (you get all those beans and more by attending our November 11 Unscripted Fundraiser), 2018 is going to be a definitive year as I work alongside Phillip Chavira our Executive Director. Together, we bring over 30 years of professional experience with theatre companies across the US, advanced degrees in arts, business, and languages, multiple awards, and a genuine visionary alignment to make Intiman's great work happen. In 2018, Intiman will also continue our Co-Curator leadership model with theatre-maker who herself brings decades of experience with major theater companies across the US and whose work is no stranger to Seattle audiences. We will lean into our mission more intensely than ever. We will hold underrepresented stories to the light, look at issues of identity, race, visibility, gender, coming-of-age, microaggression and an allegory on colonization. All of this while centering new artists, unlikely combinations and lived true stories, reminding our audiences and artists alike that we are what makes America great.
MEDIA CONTACT
For more information or to request interviews, please contact Phillip Chavira at phillip@intiman.org.