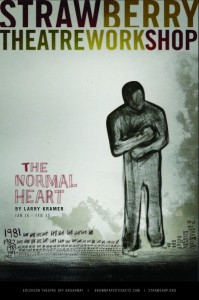 Intiman Artistic Director Andrew Russell recently closed a critically acclaimed production of THE NORMAL HEART — another play about the AIDS crisis, also set in New York City — that takes place in the years immediately before ANGELS IN AMERICA. Here, Andrew reflects on performing the role of Felix in this powerful production by Strawberry Theatre Workshop.
Larry Kramer's The Normal Heart is a groundbreaking play of love, rage and pride, produced and shared as a direct form of activism and protest. It was originally produced in 1985 at The Public Theatre to an audience ravaged themselves by AIDS, or witnessing the dying of family and friends. Members of the original company were diagnosed with AIDS during the run of the production and went on to die.
It was a play reflecting reality so transparently – albeit through Kramer's lens, which may have refracted many facts but not entire truths – that an audience felt entirely in it, and didn't need to imagine what would come next, because they could soon be living the next scene in their daily life. Kramer himself stood outside the theatre each night, protesting and handing out information. It was theatre but also a loud and practical cry for help and support.
I didn't fully understand the role my character, Felix, played in all this until the end of our opening weekend. I was standing backstage reading this beautiful poem by W.H. Auden ("September 1, 1939") that includes a line from which Kramer pulled the title of the play. I was thinking back on the performances, and also the line "craves what it cannot have, not universal love, but to be loved alone" and it hit me:
While all the other characters are desperately trying to fight institutions, governments, and prejudice, Felix stays out of the fray. He falls in love with a very unique man, and he wants to love him wholly and without reservation, not out of principle but out of a unique and specific one-of-a-kind desire.
My role in the play was to represent the personal and the unique feeling an individual feels to be "loved alone" so that all the organized and structural obstacles and offenses can be all the more devastating. By introducing this true love – romanticized for the stage, of course! – Kramer asks us to endure the personal heartbreak of a complex love story made all the more heart shattering due to the politics surrounding it. Personal is politics and politics is personal, so to speak.
This opened up my eyes. Gave me the freedom to be lovely, charming, delightful, without weight, and to enjoy the notion of love incarnate. Sure, I needed to be sassy and powerful to handle a protagonist as strong as Ned Weeks (aka Larry Kramer); but, as an actor, this realization gave me so much freedom to just focus and fall in love, so the audience could fall in love, too… and be all the more heartbroken when love was lost.
If you saw THE NORMAL HEART (and even if you didn't), we hope you'll join us this summer for ANGELS IN AMERICA PARTS 1 & 2. We're raising funds now to support these incredible shows: Please give a gift today and #ShowtheLove for Intiman.