Intiman Theatre is proud to announce that our 2014 festival was a tremendous success. THANK YOU!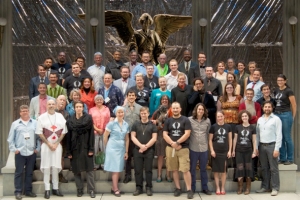 Christopher Monsos
What an incredible honor it was to bring Tony Kushner's Angels in America back to the Intiman stage. Our festival company of 77 actors, artists, and administrators — a vibrant mix of seasoned professionals and young up-and-comers — achieved something truly remarkable. Our audiences enjoyed it, too:
8,578 tickets were distributed for Angels in America and we achieved 115% of our ticket sales goal!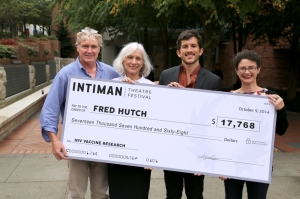 Robert Hood/ Fred Hutch
Part of Intiman's purpose is to link the world in which we live to the work we put on stage. That's why we were thrilled to partner this year with Fred Hutch, our nonprofit neighbor and a global leader in the search for a preventative HIV vaccine. We truly believe that when a vaccine is discovered, it will be found right here in Seattle.
This summer, our audiences donated $17,768 to Fred Hutch's life-changing — and life-saving — research.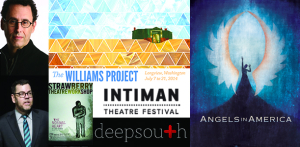 This year, we took a different approach to our flexible festival format, producing and partnering with a series of community events throughout the summer, inspired by themes in Angels in America:
May — A Savage Chat with Tony Kushner at Town Hall Seattle; Rainbow Expansion Unit, Parts 1 & 2 (Six Pack Series Event) with Washington Ensemble Theatre at Velocity Dance Center
June — Falling in Love Again with Seattle Men's Chorus at the Paramount Theatre (STG)
July — Henry VI & Orpheus Descending with The Williams Project at the Cornish Playhouse Studio; deepsouth documentary screening at SIFF Film Center
August — Angels in America, Part 1 at the Cornish Playhouse at Seattle Center;  A Short-Term Solution to a Long-Term Problem by David Schmader at Velocity Dance Center
September — Angels in America, Parts 1 & 2 produced in repertory at the Cornish Playhouse; The Normal Heart staged benefit reading with Strawberry Theatre Workshop at Fred Hutch
October — Queer Russia with The Seagull Project at ACT Theatre
Altogether, the festival spanned six months and featured two mainstage shows, one intern showcase, and nine community partner programs.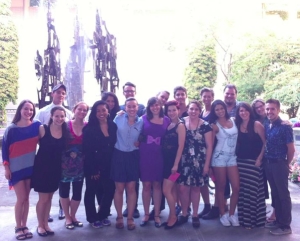 Elizabeth MacGregor
We are particularly proud of our incredible intern company, seven of whom worked closely with out professional designers to create Angels in America; and all of whom helped produce and perform their own showcase, Tiny Kushner — a series of short plays by Angels author Tony Kushner.
Our company of 25 interns spent three months in Seattle, produced six one-acts, and attended two master classes with renowned Seattle directors Sheila Daniels & Valerie Curtis-Newton.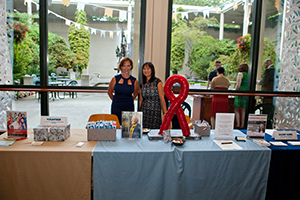 Eric Gregory / Brilliant Vita
Intiman's mission is to create theatre that is relevant to our time and as diverse as the community in which we live. We know a key factor in achieving our mission is accessibility. That's why we made a targeted effort to work with nonprofit partners and community organizations to expand the reach of Angels in America.
We gave 310 free tickets to nonprofit & service organizations; 539 discount tickets to students, artists & nonprofit employees; and hosted three community partners in our lobby for audience engagement.
Thank you for supporting Intiman Theatre and THE ANGELS PROJECT