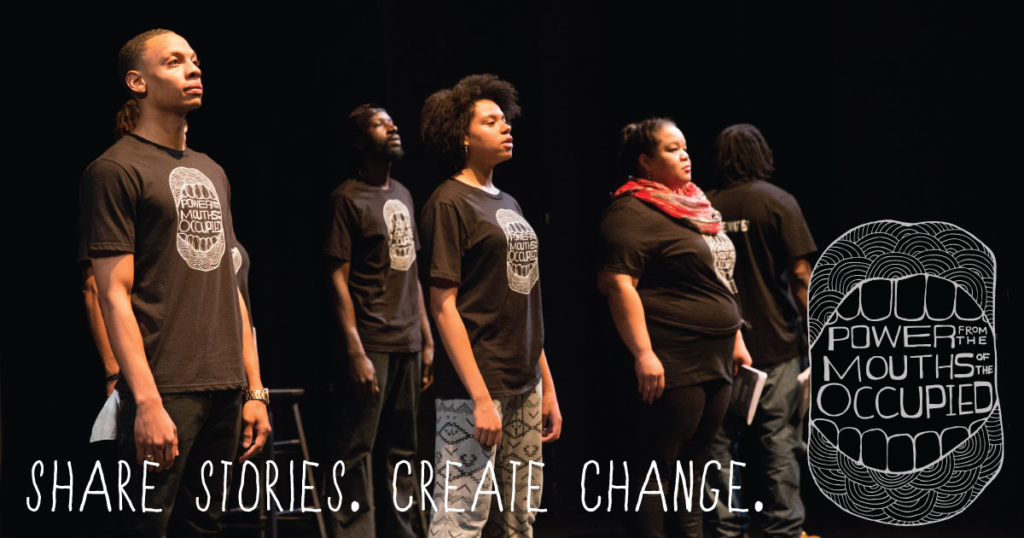 Intiman Theatre, in an ongiong collaboration with Patrisse Cullors (#BlackLivesMatter, Co-Founder) and the Seattle Office for Civil Rights, will are working on the next production of POWER: From the Mouths of the Occupied.

POWER: ABOUT
POWER: A HISTORY
POWER is the most recent artistic offering from Patrisse Cullors, Co-Founder of #BlackLivesMatter. Patrisse has spent the last 15 years of her life fighting issues pertaining to state violence and mass incarceration. This project is being proposed to build on local, as well as national, momentum for an end to State sanctioned violence against our communities.
"We hope through this project to build a multi-disciplinary and collaborative art show through soliciting and compiling stories from Black folks across the country speaking on the effect of rampant incarceration and State violence on their lives and communities. The result of these conversations will be a performance piece put on by member actors and shared with the broader community. The show will feature live instrumentation and 8-10 community actors who will share short monologues on their experiences of state violence. The duration of the piece will be approximately 70 minutes." ~ Patrisse Cullors
Developed during her visiting fellowship at the Arcus Center for Social Justice and Leadership, Patrisse directed the 2015 performance of POWER: From the Mouths of the Occupied and brought stories of Black folks directly impacted by state violence to the stage. Co-produced by Damon Turner, the multi-media production utilized theatre, live  instrumentation, and local artists to draw audiences into an experiential narration of the 1951 We Charge Genocide document submitted to United Nations for crimes against Black people in America. The piece asked audiences to unpack the question of how current police state practices across the country reflect genocidal practices named and still relevant in the document.
Seattle Channel Front Row: Power – From the Mouths of the Occupied
10/22/2016
---

POWER: WHO
Patrisse Cullors (Creator and Director) is an artist, organizer, and freedom fighter from Los Angeles, CA. Cofounder of Black Lives Matter, she is also a performance artist, Fulbright scholar, popular public speaker, and an NAACP History Maker. She's received many awards for activism and movement building, including being named by the Los Angeles Times as a Civil Rights Leader for the 21st Century and a Glamour 2016 Woman of the Year. Patrisse is currently touring selective cities with her multimedia performance art piece POWER: From the Mouths of the Occupied.

Intiman Theatre (Co-Producer) is a community engaged and socially progressive theatre that produces plays, readings, and events that are exciting, relevant to our time, and as diverse as the community in which we live. Intiman has presented over 225 productions to Seattle audiences since 1972, and is the recipient of the 2006 Tony Award for Outstanding Regional Theater. After shuttering its windows in 2011 due to substantial debt, Intiman was reborn in 2012, as a company committed to producing performance that struggles with American inequities.  Among these are: ANGELS IN AMERICA by Tony Kushner, WEDDING BAND by Alice Childress, BOOTYCANDY and BARBECUE by Robert O'hara, and DRAGON LADY by Sara Porkalob. Intiman produces in various venues throughout Seattle, which include Langston Hughes Performing Arts Institute in Central District, 12th Avenue Arts, Velocity, UW Jones Playhouse, Seattle Center Theatre, Seattle Repertory Theatre and Cornish Playhouse at Seattle Center.
Luzviminda Uzuri "Lulu" Carpenter (Project Manager) is a Resident Artist and Performance Studies Teacher at Seattle Girls' School, Producer and Talk Show Host for #LuluNation and the Crew, and an Independent Advisor and Contractor for organizations like Gender Justice League. She has worked and organized within the state of Washington for over 22 years and promoted and performed for over 12 years in Seattle and King County with community organizations, such as Ladies First Project of Communities Against Rape and Abuse (CARA), VoicesRising, Asian Pacific Islander Women and Family Safety Center (now APIChaya), and Pinay sa Seattle (now GABRIELA-Seattle). She was an ambassador for OnTheBoards (OTB) to make connections between community, social justice, and innovative art and performances. Also, she is a former Co-Chair and Commissioner with the City of Seattle LGBT Commission and former consultant at Roots Young Adult Shelter.
Seattle City Office of Civil Rights (Sponsor) works to advance civil rights and end barriers to equity. SOCR enforces laws against illegal discrimination in employment, housing, public accommodations and contracting within Seattle city limits. SOCR leads the Race and Social Justice Initiative, a citywide effort to end institutional racism in City government and to achieve racial equity across our community.
---

POWER: PUBLIC SHARING
PUBLIC SHARING
Intiman is in collaborations with folx to present our Public Sharing in 2018 in Seattle, WA. More details to follow.
---

POWER: GET INVOLVED
Are you an 
organization, director, or community leader
 that wants to study with Patrisse, and learn about how POWER can come to your city?
Click here for more.
We are looking for organizations, directors, and community leaders who believe in this production and would like to be involved in the December Workshop and March Production across the United States. 
Click here to learn more and apply
.
Are you a 
sponsor
, and want to learn how you can give to make this production happen?
Click here for more.
National conversations about state violence against Black communities are more important than ever with increased media attention on the recurring deaths of Black people at the hands of law enforcement. Along with the growth of the #BLACKLIVESMATTER movement, comes a demand for stories that create opportunities for sharing, healing, and empowerment.
Intiman is seeking $50,000 in financial and in-kind contributions to support POWER, including; a 12-day workshop for 10 Black directors from around the country to study with Patrisse, and a fully staged 4-performance run in 2018 at community venues around Seattle.
In 2016 POWER sold out a 3-performance run at the Langston Hughes Performing Artist Institute, reaching over 900 audience members. Community partners, including the Office for Civil Rights, Social Justice Fund NW, #BLACKLIVESMATTER, Macklemore & Ryan Lewis, and others played a key role in our success. Now we are looking to expand opportunities for community engagement!
Consider tapping into the power of this project as a sponsor. See the production live in 2018, get regular project updates, expand your network by reaching new, diverse communities, and be featured on our marketing and promotional materials.
Please contact Phillip Chavira, Intiman Executive Director, to learn more about this initiative, phillip@intiman.org or 206.726.5095.
---

POWER: MEDIA
Stay tuned for more media.