"A vast, miraculous play… provocative, witty and deeply upsetting… a searching and radical rethinking of American political drama." –
FRANK RICH, NEW YORK TIMES
"The finest drama of our time, speaking to us of an entire era of life and death as no other play within memory. It ranks as nothing less than one of the greatest plays of the twentieth century." –
JOHN HEILPERN, NEW YORK OBSERVER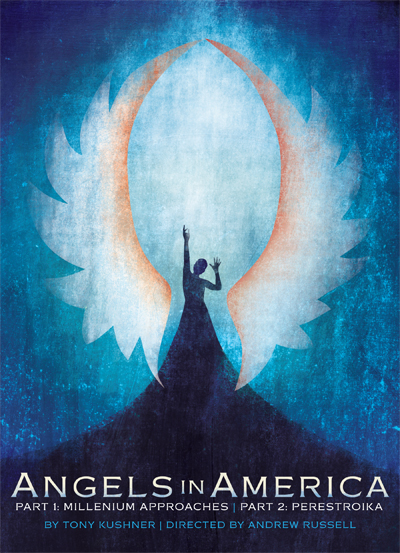 ANGELS IN AMERICA
Aug 12 – Sept 21
Cornish Playhouse at Seattle Center

(formerly Intiman Playhouse)
Part 1: August 12 – September 21, 2014
Part 2: September 3-21, 2014
Wednesday through Sunday at 7:30pm
Saturday & Sunday at 1:30pm*
 *The Sunday, September 14, matinee performance of Perestroika will begin at 12:30pm
THE ANGELS PROJECT culminates with "Angels in America," Tony Kushner's two-part epic, subtitled "A Gay Fantasia on National Themes."
One of the most honored American plays in history, "Angels in America"  was awarded two Tony Awards for Best Play and the Pulitzer Prize for Drama. It was made into an Emmy Award-winning HBO film directed by Mike Nichols.
Spanning the Reagan-Bush years and spiraling around the AIDS crisis in 1980s New York City, this groundbreaking two-part epic weaves the lives of fictional and historical characters into a feverish web of social, political and sexual revelations.
Buy a FESTIVAL PASS to see both Part 1 & Part 2 at a discount,
plus enjoy extra perks for other ANGELS PROJECT events
and a discount on lobby concessions.

Want to experience this epic two-part masterpiece in one day?
Buy a MARATHON PASS.

Or, buy SINGLE TICKETS to Part 1: Millennium Approaches
or Part 2: Perestroika.


PRESENTING SPONSOR

Festival Pass Benefits
Affordability – a discount off our single ticket prices
Flexibility – unlimited ticket exchange up to 48 hours before your ticketed performance
Priority – advance notice and discounts for additional programs and events that are part of The Angels Project, including deepsouth, A Short-Term Solution to a Long-Term Problem, and Tiny Kushner

Felicity – A special discount off lobby concessions and other special perks along the way
"Landmark works of theater… significant meditations on gay life, politics, and religion in America." -NEW YORK TIMES ARTSBEAT
"Both a landscape of loss and a map of the paths of denial, fury, humor, and mourning that homo sapiens use to travel beyond sorrow." -THE NEW YORKER