MICHAEL PLACE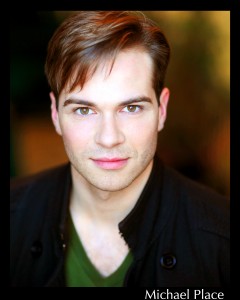 Roles: Mercutio in R&J, Lovborg in Hedda Gabler, and Less Old Queen in Miracle!
WHAT WENT THROUGH YOUR HEAD WHEN YOU WERE ASKED TO DO THE FESTIVAL?
After I found out the details, I got off the phone, maintaining calm as much as I could with Andrew, and I screamed and jumped on my bed and all my roommates were like "What is your problem, shut up!" I was really excited. It's a dream come true, to come home to this kind of work and the festival is thrilling.
OUT OF ALL YOUR ROLES, WHICH ONE IS THE MOST CHALLENGING?
There are aspects of each of the roles that are difficult. I think Less Old Queen in Miracle! is the farthest from me. It's asking something of me that I'm not as comfortable doing, or I haven't done as much of.  Understanding drag and that culture is a brand new experience for me.  The tone and the vocabulary of that world is something that you don't want to falsify, you don't want to do the stereotype, but you kind of want to do the stereotype so it lives someplace between archetype and stereotype so it's hard to find.
WHO ARE YOU EXCITED TO WORK WITH?
There are people who I've worked with before, and it's thrilling to be back in the room with them. And then there's a handful of Washington Ensemble Theatre people that I founded the company with, so for all of us to come back together, especially after being gone for three years is a huge gift, and I'm so grateful for that. And then there's a handful of amazing actors that I'm getting to work with – Shelly, Tim, Hannah, and the whole cast is brilliant, and it's great.
YOU DON'T LIVE IN SEATTLE, DO YOU?
Well, I was at grad school, so I was gone for three years. But I've been coming back every summer, and trying to work in the summer time. I'm going to try and be here as much as possible. Anytime I have a great reason to be here, like Intiman, I will be, but otherwise I'll be in NYC.
YOUR FAVORITE PLAY IS ROMEO AND JULIET, WHY?
I love the character of Romeo a lot. I think I understand him. I love the relationships in that play. I love that Romeo and Mercutio's relationship is so deep and specific and unusual and scary and intimate and very strange in beautiful ways. I think Romeo and Juliet's love is something irrational that I really relate to and understand, and I love riding the waves of that kind of love, that kind of unpredictable and maybe-not-very -smart, but it's true, passionate and real.