2017 Productions | 

Dragon Lady

 
SHOW INFO

DRAGON LADY by Sara Porkalob
Directed by Andrew Russell 
60 YEARS. 3 GENERATIONS. 1 FILIPINO GANGSTER FAMILY. Intiman Co-curator Sara Porkalob will portray multiple family members from three generations in this hysterical, moving and new musical about what it means to be brown, poor and newly American. This fearless new musical features a live band, an intimate theatre setting, and a plot that includes gangsters, murders and more. DRAGON LADY is a timely musical that explores what it means to come to America.
Intiman Producing Artistic Director Andrew Russell returns to direct after Intiman's 2014 production of ANGELS IN AMERICA.
VENUE
Jones Playhouse at UW
4045 University Way NE, Seattle, WA 98105
PROGRAM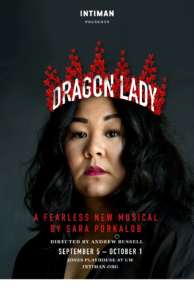 ---
TICKETS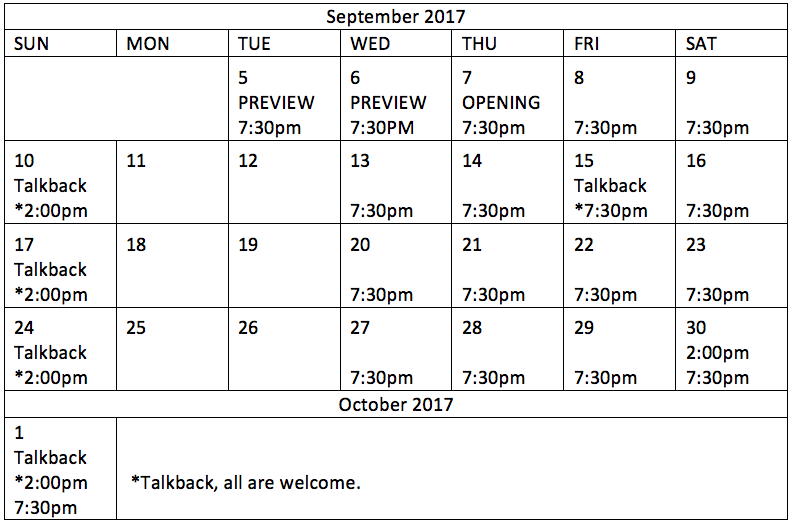 Want to learn more about the themes of the show?
Join the Community Talk Back Sessions every Sunday after the show.
Sunday, September 10: Celebrating Grandmother's Day/The Value of Intergenerational Relationships. September 10 is Grandmother's Day! Intiman is offering a free ticket to your/a grandmother with a purchase of a ticket. Buy a regular ticket online and the complimentary ticket to your/a grandmother will be honored at the door. To ensure a seat, email boxoffice@intiman.org.
Sunday, September 17: A Conversation on Activism and Human Trafficking with Stolen Youth Executive Director Nicole DeCario.
Sunday, September 24: How to Create for Social Change.
Sunday, October 1: Celebrating Filipino American History and Kicking Off the October Filipino American History Month! Community Partners: Filipino American National Historical Society (FANHS), Pride Asia, Hood Famous Bakeshop.

---
CAST
SARA PORKALOB (All Characters) Sara is a performance artist/activist recently recognized on City Art's 2017 Future List. In addition to her work with Intiman, she's been all over the Seattle theatre scene. In 2018, Sara will be making her East Coast debut, where DRAGON LADY will perform at the American Repertory Theatre as part of their Oberon Presents series. Love to her partner, her family, and everyone at Intiman for helping DRAGON LADY burn the house down. #blacklivesmatter #punchnazis
JIMMY AUSTIN (Musician) Born in Pullman, Washington, Jimmy Austin inherited his name and first trombone from his grandfather. After moving to Bellingham for school, he began performing with a variety of groups, including Hot Damn Scandal. Jimmy has just moved to Seattle and is excited for new possibilities.
PETE IRVING (Musician) Pete has been writing and playing music as his primary means of making a living for over a decade. His primary creative outlet —Hot Damn Scandal — has in various formations seen almost every state in the union. He currently resides in Bellingham, Washington.
MICKEY STYLIN (Musician) Born and raised in Whatcom County, Mickey is a local boy who is proud to live in the heart of Cascadia. Outside of DRAGON LADY, he performs with Hot Damn Scandal and Hot House Jazz Band, both home-based in Bellingham, Washington. Yowza!
CREATIVE
ANDREW RUSSELL (Director) Andrew is a writer and director, and the Producing Artistic Director of Intiman Theatre, where he has worked since 2009. He splits his time between NYC and Seattle. With Intiman, he has written, directed, or produced dozens of productions and projects, including commissioning and directing STU FOR SILVERTON, a new musical about America's first transgender mayor by Peter Duchan and Breedlove, as well as directing both parts of Tony Kushner's epic ANGELS IN AMERICA in repertory. As a writer, he focuses on the stories of wild Americans who do bold things, including THE LONG GAME, a new musical directed by Tony Award winning director Christopher Ashley about whistleblowing through the stories of Dorothy Kilgallen, Jack Ruby, Edward Snowden, and Laura Poitras, with composer Richard Gray. Andrew has collaborated as a director, producer, or writer with the Oregon Shakespeare Festival, The Old Globe, The Public Theatre, The 5th Avenue Theatre, Seattle Repertory Theatre, Universal Studios, Cherry Lane Theatre, On The Boards, Dorset Theatre Festival, Theatre Latte Da, National Alliance for Musical Theatre, Naked Angels, Lincoln Center Theatre, Ensemble Studio Theatre, 92nd Street Y, The Flea Theatre, Sundance Theatre, ACT – A Contemporary Theatre, Carnegie Mellon University, Columbia University, New York University, and Cornish College of the Arts.
JENNIFER ZEYL (Set Designer) Jennifer is a Seattle-based scenic designer and producer. She designs regularly at ACT Theatre, Seattle Repertory Theatre, On the Boards, Intiman, Seattle Shakespeare and Seattle Children's Theatre, as well as nationally at The Guthrie, The Public, The Rose, and Two River Theatre Company. Jennifer is a Founding Co-Artistic Director of Washington Ensemble Theatre, winner of the Stranger Genius Award in Theatre, and two Gregory Falls Best Scenic Designer. Jennifer works for Intiman Theatre as the Artistic Producer, CityArts Magazine as the Creative Director of Genre Bender, and is the Proprietress of Canoe Social Club, a salon for civic-minded artists. 
K.D. SCHILL (Costume Designer) K.D. has designed/procured costumes for some of the most talented directors, playwrights, actors, dancers, musicians, choreographers, filmmakers, and artists in the Pacific Northwest. For this, she is extremely grateful. Many moons ago, she was an intern in the Intiman Costume Shop. She has been the wardrobe supervisor at Intiman for the past five seasons. She is delighted to come full circle and be the costume designer for DRAGON LADY.
ROBERT J. AGUILAR (Lighting Designer) Robert J. Aguilar at Intiman: WEDDING BAND, THE CHILDREN'S HOUR, JOHN BAXTER…, ANGELS IN AMERICA. Seattle Area: THE PAJAMA GAME, HOW TO SUCCEED…, JASPER IN DEADLAND (5th Ave); A RAISIN IN THE SUN, LIZARD BOY (Seattle Rep); DAISY, LITTLE SHOP… (ACT). Regional: FULL GALLOP (The Old Globe), 7 SPOTS ON THE SUN (Cincinnati Playhouse).
ERIN BEDNARZ (Co-Sound Designer) Erin is a multi-disciplinary artist who has spent nine years making art in Seattle. She is proud to have been Intiman's 2016 Sound Apprentice, and currently serves as company member at LiveGirls! and Annex Theaters, as well as co-founder of new play accelerator Umbrella Project.
MATT STARRITT (Co-Sound Designer) Matt is a Seattle-based, freelance sound designer for theatre and dance and has been collaborating with Intiman since 2010. He is a part-time lecturer for the University of Washington's School of Drama and was a founding member of Washington Ensemble Theatre. 
KARINA GARCIA (Assistant Director) Karina is a Seattle-based director, storyteller, and teaching artist. She has directed and performed with the Seattle Fringe Festival, Slate Theatre, and Pocket Theatre, and teaches with the Seattle Children's Theatre and Foundry10. She is ecstatic to be back with Intiman after completing the 2017 Emerging Artist Program!
LIANA DILLAWAY (Stage Manager) Liana is excited to return to Intiman, where previously she stage managed WEDDING BAND. Other credits include BRING DOWN THE HOUSE (Seattle Shakespeare Company), A VIEW FROM THE BRIDGE, OUTSIDE MULLINGAR (Seattle Rep), THE MAGIC FLUTE, and HANSEL AND GRETEL (Seattle Opera). Liana holds a BA from UCLA.
ADRIENNE MENDOZA (Assistant Stage Manager) Adrienne is thrilled to be back at Intiman after working on the '12, '13, '14 and '15 Festivals. Recent credits include: MADAME BUTTERFLY (Seattle Opera), HERE LIES LOVE (Seattle Rep), THE PAJAMA GAME (5th Avenue Theatre). Love to all my scumpi, especially Sam.
---
NEWS
Seattle Times: "With versatile bravado, Porkalob (the show's creator-star, directed by Andrew Russell in this Intiman Theatre production at UW's Jones Playhouse) slips seamlessly in and out of characters representing the resiliency and trauma of three related generations."
City Arts Magazine: "Dragon Lady is the work that launched the actor/director/writer/singer's ascendant career. It began as a solo performance about her Filipino grandmother's stories of a gangster past and was born from a craving to explore her identity inside the crush of white culture at Cornish. The short monologue grew into a longer version with multiple characters, Porkalob shifting between personas with nothing more than a raised eyebrow or a jut of the chin…"
Seattle Weekly: Sara Porkalob's 'Dragon Lady' Is a Celebration of the Legacies That Made Her -In her one-woman show, the artist/activist plays multiple generations of her family. "While trauma and violence is a part of our history … we have a lot to celebrate. We have joy. There's resilience. There's desire. There's love. There's hate. There's redemption. All of those things belong to us too…"
Inquirer.net: Actress Sara Porkalob stages the story of her gangster lola. "'It's the story of my [maternal] grandmother's past in the Philippines as a gangster and a nightclub singer," explains Porkalob. But more than just that, it's a statement of Porkalob's anger at Asian stereotypes, her assertion as a woman theater artist, and her love for family."
"BEST ACTOR"
— Seattle Weekly on Best of Seattle
"2017 Future List"
— City Arts