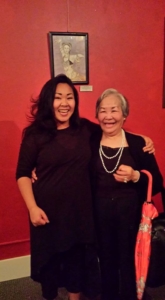 by Sara Porkalob, Intiman Co-Curator and creator of the new musical DRAGON LADY
"Dragon Lady" was a term created in the 1930's by the West to describe Asian women who were strong, sexual, deceitful, and domineering. The opposite of the Dragon Lady was the "Madame Butterfly": demure, passive, alluring in her naiveté about the opposite sex, and a martyr. Essentially, both of these terms are racial slurs, aimed at objectifying and negatively portraying Asian women as one dimensional stereotypes: either we've evil and sexual, or we're martyred and passive.
Growing up, these were the only representations of Asian women I saw in mainstream media, and yet, there I was, an Asian woman being raised by strong, complex Asian women. Why wasn't I seeing their experiences portrayed on TV, in the movies, and in books? Was I a Dragon Lady or was I a Madame Butterfly? Or was I neither?
I began developing DRAGON LADY in my senior year of college. I felt ill-prepared to enter the professional world of theater and I had spent the last four years studying the works of old white men, who, like those TV shows and movies of my youth, either completely ignored the experiences of women of color OR depicted them as gendered and racial stereotypes. I knew I didn't want to perpetuate/be involved in that work, but what did I want to do? What did I have to say? What was I fighting for?
I decided to investigate my past. And when you're lost, what do you do? You look back and retrace your steps. I started retracing my steps and no matter what fork I took in the road, the path always led back to my family — back to the people who made me who I am today. Their story is my story, so if I could find a way to tell their story in all its beautiful complexities, then I would know what my story is. And if I know what my story is, I can share it and help carve out a space for other people's stories — and all of our stories can be the things that change, challenge, and destroy the stereotypes.
To me, a "dragon lady" is a woman taking control of her narrative — a woman who knows where she came from, where she's going, and a woman who is not afraid to burn some shit down.
Photo: Sara with her grandmother. Courtesy of Sara Porkalob.
60 YEARS. 3 GENERATIONS. 1 FILIPINO GANGSTER FAMILY.


DRAGON LADY by Sara Porkalob, directed by Andrew Russell
Tickets Available Now