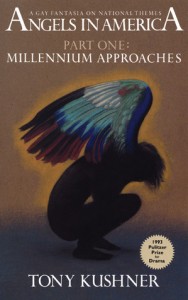 This is the third and final post post in a series written by Intiman Artistic Director Andrew Russell, reflecting on acting in THE NORMAL HEART while casting and planning for ANGELS IN AMERICA.
Many have called Tony Kushner's Angels in America an epic masterpiece, one of the best plays of the 20th century… and I agree.
Angels is the very epitome of epic — it uses humor and drama, delight and terror, classic theatricality and contemporary stage magic to explore humanity's struggles with politics, religion, sexuality, race, and so much more. Although it explores these issues through the lens of the 1980s AIDS crisis, Angels is as much about America as it is about AIDS.
And yet, at its core, Angels is a story about eight characters — just eight people, swirling and spinning over, through, and into each other in the midst of a plague, as they hurtle toward an uncertain future.
Auditions were so strong this year for Angels in America that Intiman could have cast at least five separate productions of the play, and each would have been as strong as the next. Casting a company of actors is one of the hardest parts of being an artistic director, and I do not take it lightly. There are so many dynamics at play; and yet, at the end of the day, only one person can play each role.
(I am excited to share our incredible cast of eight actors with you, which we'll start doing next week on our Faceook page.)
Suzy Hunt is a force of an actress in Seattle who was not cast in Angels in America, despite my desire to work with her. She gave me permission to share these beautiful words she sent in an email, which I think capture the artistic community's collective interest in this production and also the exact reason why times of crisis demand great works of art like The Normal Heart and Angels In America:
I send you my very best wishes for a passionate, love-drenched, detailed, and hard look at the cold world which fostered that play. Angels in America shines like a candle in a naughty world and gives hope when there was none and pours love over the broken hearts of those who suffered. It is revolutionary and gives no safe harbor to those who indifferently turned their faces away from the devastation. It is a balm, a call to arms, and a defiant shout of survival.
I hope you'll join me in bringing the defiant shout of survival that is Angels in America back to Seattle this year: Make your donation or pledge your support today.