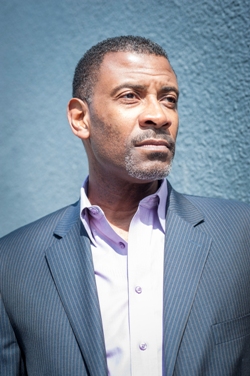 If you've ever seen a show in Seattle, you've probably seen Timothy McCuen Piggee. Timothy was a member of our first festival repertory company in 2012, and he's appeared at many productions at Intiman, including Measure for Measure (Angelo), Richard III (Hastings), Crumbs from the Table of Joy (Godfrey), Cymbeline (Caius) and The Taming of the Shrew (Hortensio).
Timothy has also starred at every major Seattle theatre, including ACT, 5th Avenue, Seattle Rep, Village Theatre, and Seattle Children's Theatre. Most recently, Timothy appeared in The Memory of Water (Frank) and Chicago (Billy Flynn), and on Broadway in Catch Me If You Can.
Timothy will portray Belize, a former drag queen working as a registered nurse; he is Prior's ex-boyfriend and best friend.
Fun Fact: Timothy is an Associate Professor at Cornish College of the Arts.
How did you first encounter Angels in America?
The original Broadway and original Intiman productions were my first exposure to Angels in America.
What's the most challenging role you've tackled?
Every role presents its own challenge. Some roles require more mental stamina than others, the same holds true for roles with strong physical demands as well. For example, I've played Don Quixote in Man of La Mancha and Tom in The Glass Menagerie; both were challenges, but for different reasons.
What do you love to do in Seattle?
A fantastic dinner party with loving friends!
Photo Credit: LaRae Lobdell of PhotoSister.com