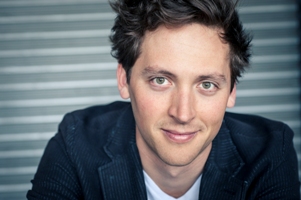 Born and raised in Hawaii, Quinn Franzen now calls Seattle home. We're excited to welcome Quinn back to the Intiman boards, where he portrayed Romeo (Romeo and Juliet) and Frank (Dirty Story) in our 2012 festival.
Quinn is a company member of the Satori Group, and has produced and performed a bunch of new work in collaboration with them over the years. This May, he will perform in Satori's new play Returning to Albert Joseph, written by Spike Friedman. He is currently working on Algernon in The Importance of Being Earnest with Seattle Shakespeare Company.
Quinn will portray Louis Ironson, a word processor working for the Second Circuit Court of Appeals who struggles to accept and cope with his boyfriend's battle with AIDS.
Fun Fact: Quinn's sixth-grade homeroom teacher, Mrs. Teske, made him attend afterschool drama club as punishment for being obnoxious in class.
How did you first encounter Angels in America?
I had heard of the play when I was in high school, but somehow got the idea that it was like this feel-good Christian comedy. Like if Neil Simon wrote "Touched by an Angel" or something. I don't know. (Sometimes things get lost in translation en route to Hawaii.) I ended up reading it in college and was blown away. Its humor is so absolutely innocent and disarming one moment, and then seriously brutal the next. A wicked one-two punch. Just reading it is such an emotionally messy and exhausting ride.
What's the most challenging role you've tackled?
Oof. God, I don't know. I have a really hard time thinking of roles as more or less difficult than each other. I mean, obviously not every role is going to be a mammoth like Hamlet… but I think any role is basically an impossible venture when you look at it baldly — that is, that we're trying to replicate a breathing human life here. And then present it at a size and volume digestible for a few hundred people in two hours. It's an absurd and beautiful undertaking. But, in terms of most insurmountable: my high school put on a production of A Streetcar Named Desire and I was cast as Stanley Kowalski. I was 16 or 17. Jesus. I'm not saying I know that much more now than I did then, but at least now I know I don't know, and I really didn't know I didn't know back then. I like to think that helps. And I am excited and terrified to bring my know-nothing approach to Louis.
What do you love to do in Seattle?
My absolute favorite thing in Seattle are those first teasingly bright days in early spring where the trees go ape shit with buds and everyone starts wearing t-shirts and shorts even though it's barely 50 degrees. The best thing to do is drive up and down Lake Washington Boulevard between Madison Beach and Seward Park. Steal a vehicle if you have to. It's worth it.