Intiman Theatre Presents
"Angels in America"
Tony Kushner's award-winning, two-play American masterpiece
about finding hope in the face of crisis
| | |
| --- | --- |
| Who | Intiman Theatre |
| What | Tony Kushner's "Angels in America," the two-play epic produced in repertory |
| When | August 12 – September 21, Press Openings Thursday, August 14 & Friday, September 5 |
| Where | The Cornish Playhouse at Seattle Center, 201 Mercer Street, Seattle, WA 98109 |
| Tickets | Single tickets start at $25; festival and marathon passes available to see both plays at a discount; (206) 315-5838 or click here |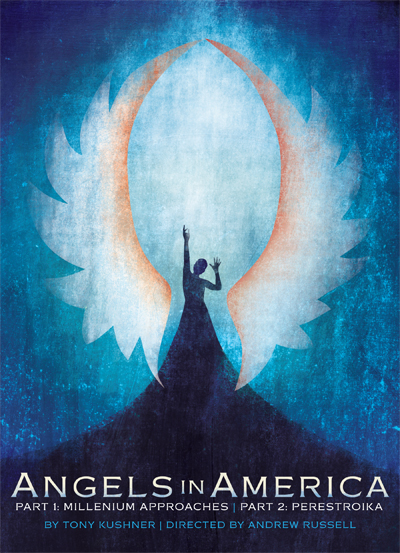 SEATTLE – August 5, 2014 – As the cornerstone of its annual theatre festival, Intiman Theatre proudly presents Angels in America, Tony Kushner's epic masterpiece about finding hope in the face of crisis. One of the great plays of the 20th century, this two-play blockbuster explores gay culture, race, inequality, and the future of America through the lens of the AIDS crisis of the 1980s.
Performed by an ensemble cast of Pacific Northwest artists, Angels in America, Part 1: Millennium Approaches runs Aug. 12 – Sept. 21; and Angels in America, Part 2: Perestroika runs Sept. 3 – 21. Tickets are on sale now at Intiman.org.
Directed by Intiman Producing Artistic Director Andrew Russell (Stu for Silverton), these repertory productions provide a rare chance to see both parts of Kushner's groundbreaking work in close succession (even in the same day).
"Angels in America is a universal tale, and one of the greatest theatrical works of our time," said Russell. "Tony Kushner writes about catastrophe within marginalized communities in the 1980s, and it doesn't take much work to connect these stories to our own lives today. More than ever, we Americans – in the face of crumbling structures and systems – must wrestle with how best to navigate the complexities of hope."
The cast of Angels in America features several noteworthy Seattle artists, including:
Marya Sea Kaminski (Hedda Gabler, Other Desert Cities, Clybourne Park) as The Angel;
Charles Leggett (Stu for Silverton, The Price, August: Osage County) as Roy Cohn, the successful New York lawyer and power broker hiding a life-changing secret;
Timothy McCuen Piggee (Broadway: Catch Me If You Can; Regional: The Memory of Water, Chicago) as Belize, a former drag queen working as a nurse at St. Vincent's Hospital, the epicenter of the AIDS epidemic in New York; and
Anne Allgood (Broadway: Carousel, The Sound of Music, Imaginary Friends; Regional: Mary Stuart, The Pirates of Penzance, Cymbeline) as Hannah Pitt, a Mormon mother who moves from Utah to New York to support her struggling son and his pill-popping wife.
The cast also features Ty Boice as Joe Pitt, Quinn Franzen as Louis Ironson, Alex Highsmith as Harper Pitt, and Adam Standley as Prior Walter.
Winner of the Pulitzer Prize for Drama, and the Drama Desk and Tony Awards for Best Play, Angels in America, Part 1: Millennium Approaches follows eight New Yorkers who form unlikely bonds as a mysterious disease begins ravaging their city.
The second half of Kushner's extraordinary epic, Angels in America, Part 2: Perestroika, steers the characters from the opportunistic 1980s to a new sense of community in the 1990s, as the AIDS plague worsens, relationships fall apart, and unexpected friendships take form.
Cast (in alphabetical order)
| | |
| --- | --- |
| Anne Allgood* | Hannah Pitt |
| Ty Boice | Joe Pitt |
| Quinn Franzen | Louis Ironson |
| Alex Highsmith | Harper Pitt |
| Marya Sea Kaminski* | The Angel |
| Charles Leggett* | Roy Cohn |
| Timothy McCuen Piggee* | Belize |
| Adam Standley | Prior Walter |
Creative Team
| | |
| --- | --- |
| Andrew Russell | Director |
| Jennifer Zeyl | Scenic Designer |
| Mark Mitchell | Costume Designer |
| Robert J. Aguilar | Lighting Designer |
| Matt Starritt | Sound Designer |
| Paul Rubin | Flying Sequence Choreographer |
| Judith Shahn | Vocal/Text Coach |
| Geoffrey Alm | Fight Director |
| Stina Lotti* | Stage Manager |
| Jessica C. Bomball* | Assistant Stage Manager |
*denotes member of Actors' Equity Association, the Union of Professional Actors and Stage Managers in the United States
The Presenting Sponsor for Angels in America is Fred Hutchinson Cancer Research Center, a global leader in the search for a preventive HIV vaccine. Additional support is generously provided by King5, Seattle Met, Boeing, the National Endowment for the Arts, Wyman Youth Trust, Edelman, BECU, 4Culture, Hafer Family Foundation, Shubert Foundation, SeattlePI.com, CityArts, and a dedicated community of individual supporters.
For additional information, high-resolution photographs or interview requests, please contact Christine Bateman, Intiman Theatre Communications Director, at christine@intiman.org or (206) 726-5104.
About Intiman Theatre
Intiman Theatre produces an annual theatre festival that is exciting, relevant to our time, and as diverse as the community in which we live. A professional and socially progressive theatre, Intiman produces a locally sourced festival in Seattle, created by a diverse community committed to authentic storytelling, and operating within a flexible, sustainable producing model.
Intiman's third annual theatre festival, THE ANGELS PROJECT, launched May 10 with a Seattle visit by Angels in America playwright Tony Kushner. The festival continues throughout summer with a series of events inspired by the plays' themes, and culminates with repertory productions of the plays, Aug. 12 – Sept. 21 at The Cornish Playhouse at SeattleCenter.
In 2013, Intiman won the Seattle Times' Footlight Awards for Best New Musical and Great Performances for its production of "Stu for Silverton," a new musical about the first openly transgender mayor in America heralded by the Times as "groundbreaking."
Another 2013 festival play, "Trouble in Mind" – written in 1955 by celebrated African-American playwright Alice Childress – had one reviewer weeping through the curtain call: "It's the kind of experience that reminds why theatre is necessary – to bring us face-to-face with our collective humanity."
For more information, visit intiman.org and follow Intiman on Facebook, Twitter, and YouTube.
###