All positions have been filled for the 2013 Summer Theatre Festival, please check back in the fall of 2013 for internship opportunities in 2014.
The best education in theatre-making is through doing. Only by putting hands to tool, paint to canvas, and speech to action can a designer, producer or actor really learn the deep underside of his or her craft.
Intiman is powered by a focused and resourceful team of staff and interns. Due to our unique festival model, interns get exposure to every aspect of the theatre process – from administration to backstage, from auditions to opening night. And, because we are producing resourcefully and carefully, we give our interns a significant amount of responsibility and ask for their unique talents and contributions in return.
Intiman Theatre's Internship Program immerses participants in the experience of working hands-on in a professional theatre. Interns work closely with exemplary theatre artists to learn from the best Seattle has to offer, increasing their skills in given areas and playing a vital role in our summer festival.
Intiman offers summer internships in the following fields:
PERFORMANCE INTERNSHIPS
May 7, 2013 – September 15, 2013
In the 2013 festival, performance interns will be major collaborators and actors in the studio production. Interns may also have the opportunity to perform in a production on the main stage. In addition to this, all interns will be responsible for understudying two other roles within the festival. Through the course of this program, interns will collaborate and work closely with Seattle's top theatre artists, building their skills, resume, and connections for future professional work in Seattle and beyond. This is a unique opportunity to be part of a complex Equity rehearsal process, and a lot will be asked of each intern. Students applying must have an incredibly strong work ethic and be willing to take chances. This is a lot of demanding and rewarding work. (40+ hours a week)
DIRECTING INTERNSHIPS
May 7, 2013 – July 24, 2013
Kick-start your career with a professional director at the Intiman Theatre Festival. Directing interns in this program serve as assistant directors or dramaturgs on our festival shows. Working intimately with the director team, Intiman directing interns participate as integral parts of the creative process. Through the rehearsal and performance process, interns learn valuable skills from, and make important connections with, their principal directors. Responsibilities include supporting directors in a variety of ways: dramaturgical work, rehearsing actors, and taking detailed notes. Intiman will be looking for students with a focus in directing and strong communication skills, and who are deeply invested in a rigorous theatre making process. (20-40 hours a week).
PRODUCING INTERNSHIPS
Ranging from December 1, 2012 – September 15, 2013
Producing interns in this program work closely with the producers and staff to make the summer festival possible. By participating in all areas of arts and production administration (casting, research, marketing, procurement, literary, development, office duties, rehearsal support, and writing), production interns gain valuable knowledge, and experience in, the day-to-day of running a professional theater. (15-20 hours a week)
Internships available:
Marketing – For those interested in marketing, communications, PR. Will work closely with Marketing Manager, Artistic Director, and Managing Director.
Artistic – For those interested in artistic direction or arts leadership. Will work closely with Artistic Director.
Managing and Development – For those interested in becoming a managing or development director. Will work closely with Managing Director.
Producing – Reporting to the Associate Producer, interested in all aspects of theatre producing – from line producing productions to long-term planning. Will work closely with Associate Producer.
Casting and Company Management – For those interested in casting, working directly with actors, and establishing deep relationships with actors. WIll work closely with Associate Producer, Artistic Director, and Production Manager.
Production Management – Ideal for someone interested in stage management, contract negotiations, or who wants an inside look at how deals are made within theatre production. Will work closely with Production Director.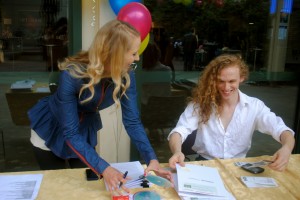 PRODUCTION INTERNSHIPS
Primarily needed May 1 – July 24, 2013.
Stage Management – For those interested in being a production assistant to the stage managers during the rehearsal process. (40+ hours a week)
Design – For those interested in helping and assisting the designers during their process. Availability depends on designer needs. (20-40 hours a week)
 ADDITIONAL EXPERIENCES - As part of the festival, interns are partnered with a "big brother" or "big sister" to ensure that they have a mentor throughout the process. For performers, this "big sibling" is often the actor you will be understudying. There will be events – lunches, talks, shows to see – that are part of the intern program. By being part of the intern program you agree to participate in these offerings. There will be an internship showcase, directed and coached by a member of the acting company, in which all interns – acting, producing, directing, etc. – must participate.
 APPLICATION
Intiman offers internships to any interested person with advanced skills in their field who wishes to enhance their learning. The internships are available to those in their final years of undergraduate training, graduate students, and young professionals. College credit is available for any of our internships through the intern's sponsoring institution.
Selection of interns is based on applicant's skill set, career goals, professionalism and availability. After submitting an application, select applicants will be interviewed in person.
To apply for Intiman's 2013 internships, please submit the materials below via email to interns@intiman.org with the subject heading Intiman 2013 Internship Application. Intiman only accepts applications via email, with this subject heading, and to this email address.
PREPARE

1. Statement: Please submit a video of no more than 5 minutes, either in zip-file or uploaded on YouTube with a link, in which you answer these questions:
- Who are you, where do you come from, and why are you interested in this internship?
- Which exact internship are you applying for and why does it interest you? You must choose one.
- Can you tell us a project that showcases how you'd be a good fit for this position.
- If selected as an intern we will track your progress. Tell us your strengths and weaknesses, and what exactly you hope to take away from this summer.
-Show us something creative. Sing? Show a drawing? Read a poem? Do a dance? Edit film? Play music?
Have fun with this video!
2. Resume. Please include all theatre and work experience.
3. Schedule: Please note that rehearsals will be 10am – 7pm, Tuesday through Sunday, May 7 – July 24. Tech rehearsals and previews run June 18 – July 24, and hours increase and are varied. Performance and assistant directing interns must be available within these windows, with a detailed schedule TBD. If you aren't available for these windows, please do not apply.
4. For all other internships, the schedule can be somewhat flexible based on availability, as long as you can accomplish number of hours listed above. Please indicate your availability in your cover email.
5. A Letter of Recommendation (must be attached as part of your application – we will only accept one full email from each applicant and not miscellaneous separate emails).
6. Auditions and Interviews: For many universities we will be holding auditions on your campus, and look forward to seeing your work then. If we do not do this, we will schedule an audition with you after reviewing your application. We will have our Equity Principal Auditions in early December of 2012, and you are welcome to come and audition at that time (you do not need to be Equity). We have a track record of seeing everyone who wants to be seen, and this is a great chance to showcase your skills in the room with us. Look on our website and other casting websites for information on the EPAs once they are scheduled.