In just a few weeks, we'll open the first anchor production of our 2015 festival: Tennessee Williams' Orpheus Descending on the 12th Ave Arts Mainstage (Capitol Hill), developed by and featuring our Company-in-Residence, The Williams Project (TWP).
Earlier this week, TWP founder and Orpheus director Ryan Purcell gave our Board of Trustees an inside look at his bold new re-staging of this Williams classic. Now, we're sharing his sneak peek with YOU!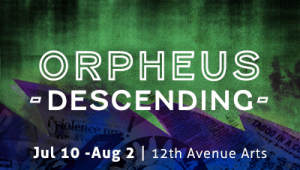 Orpheus Descending is about a small town disrupted by an outsider – and what happens when that outsider taps into dangerous community undercurrents that eventually erupt in brutality and mayhem.
For Intiman's production, Ryan (a Seattle native and former Intiman festival artist) will bring Orpheus to life in front of – and among – the audience.
Though we'll begin in a virtually empty black box studio, by the end of the play we'll have experienced a fully staged production.
Ryan has also heightened the stakes of this American classic with diverse casting – but he didn't cast roles with particular racial dynamics in mind.
Instead, he tossed his casting net wide to discover a diverse pool of exceptional talent, then put the best actors in the best roles… and we'll see what happens when they take the stage July 10 – August 2 on the 12th Ave Arts Mainstage.