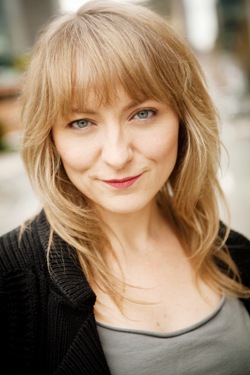 Our final cast reveal is the immensely talented Marya Sea Kaminski: Award-winning actor, writer, solo performer, and returning repertory member.
You may remember Marya (how could you not?) from our original festival, where she portrayed Janet in Dan Savage's Miracle!, the title role in Ibsen's Hedda Gabler, and The Nurse in Romeo and Juliet.
On the Seattle stage, Marya has also starred in the original rock musical Riddled (Richard Hugo House), Other Desert Cities (ACT), Clybourne Park (Seattle Rep), Electra (Seattle Shakespeare Company), and more, including several shows at Washington Ensemble Theatre, where she was a founding member and co-artistic director from 2004-08.
Marya will portray the Angel, whom Tony Kushner refers to as "four divine emanations, manifest in one; the Continental Principality of America." She descends from heaven to give Prior Walter, a man suffering with AIDS, an important message.
Fun Fact: Marya is a Genius Award winner in Theater from The Stranger.
How did you first encounter Angels in America?
I had a work-study job at the Annenberg Center in Philadelphia when the first national tour came through town. I was a Theatre Arts student at the University of Pennsylvania and was lapping up every experience I could, on stage and off. I had never seen anything like these productions. I'd seen big Broadway musicals and small intimate dramas, but never a play so epic, so authentic, smart, heartfelt and beautifully realized. These plays made me fall in love with the Bethesda Angel and, since that time, I have never taken a trip to New York City without stopping in Central Park to visit with her.
What's the most challenging role you've tackled?
Wow, I have had the great luck to chew on many challenges over the last decade of my career. My favorite challenges are the plays that keep unfolding, like some tightly bound bud that starts to bloom on the first read, or in the audition. And when it first starts to open, you see how beautiful it is, but then you realize you are only seeing the first insights of a deep, deep beauty – that's when things get terrifying and delicious. Electra at Seattle Shakespeare was a role like that. Hedda Gabler, too, I've played her a few times now and I feel like I am only beginning to get close to her secret heart.
What do you love to do in Seattle?
I love to go to the Frye Art Museum. It's free and close to my house and is always, always inspiring. Someone once told me that you should choose at least one museum to become good friends with; the Frye is probably the closest I have to a companion museum. I can always write there, and have that exquisite experience of being alone with other people among beautiful works and tremendous ideas.