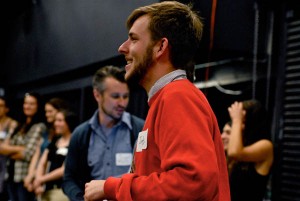 by Jonathan Pyburn
Assistant Director, Lysistrata
Getting to watch Sheila work is really the highlight of my job. She approaches each actor with such care and tenderness while still being very specific about what she wants from them. Also Sheila constructs her work based upon viewpoints. Viewpoints is highly physical work. Which is appropriate because Lysistrata is a very physical show. I think the audience will be blown away by the specificity of movement and gesture as well as the highly choreographed dance numbers.I am currently working as Assistant Director to Sheila Daniels on Lysistrata in the Intiman Summer Festival. First, let me say, that working on this show has been a complete pleasure. One of the best things about being an assistant director is being able to be in the room. I have the awesome job of watching everyone, the director, actors and stage managers. I literally get to see each step of the process unfold. What is unique about this process is that Sheila Daniels and Ali el-Gasseir have adapted the script to appeal more to our modern audience. Basically, It's not going to be the typical Greek play. Also getting to watch all the actors work with new pages is truly a rewarding experience. We are literally crafting the play together day by day. These actors are some of the most talented artists in the Seattle area. In rehearsals I spend at least half the rehearsals with cramps from laughing at all the hilarious jokes in the play. They approach the play with such tenacity and vigor but also tap into the deep underbelly. The show is definitely going to appeal to the audience.
What is great about Intiman Theatre is the love and passion of each artist who works here. The camaraderie in the cast as well as the support from the company really makes you feel like you are in a theatrical family. That love also extends the audience. Intiman truly loves the audience and I have a feeling that the audience is going to love this show!