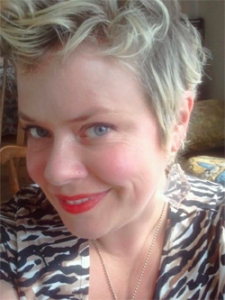 If you've seen even one Intiman festival show in the past two years, then you've seen the exceptional, award-winning scenic design of Jennifer Zeyl.
Not only is she our Production Manager, Jennifer has designed the set for every single show of our 2012 and 2013 festivals. And she's back again this year, as the Scenic Designer for Angels in America Parts 1&2.
Jennifer has created award-winning designs for numerous theatres in Seattle, including Seattle Repertory Theatre (I Am My Own Wife, Of Mice and Men), ACT Theatre (Pilgrims Musa and Sheri in their New World), Seattle Children's Theatre (Jackie and Me), Village Theatre (TRAILS), Balagan Theatre (Hedwig and the Angry Inch), Book-it Repertory Theatre (Little Women, Even Cowgirls Get the Blues), and Washington Ensemble Theatre (13 Shows including Crave, Finer Noble Gases and Crumbs are Also Bread), where she served as a Founder and Co-Artistic Director from 2004-2008.
Fun Fact: Jennifer received the 2006 Stranger Genius Award in Theatre.
How did you first encounter Angels in America?
I saw the production at Trinity Repertory Theatre in 1993 while in undergrad at The University of Rhode Island. I became obsessed, bought the scripts and then the films when they where available.
What's the most challenging production you've tackled?
You're about to see it.
What do you love to do in Seattle?
I love to walk my dog in Seattle parks. I love to eat my husband's cooking. Most of all, I love to make theatre here.