Falling in Love Again
June 14, 2014 @ 8pm | The Paramount Theatre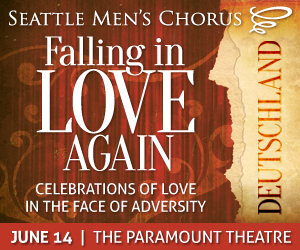 Kicking off Seattle Men's Chorus's tour to Germany, the beloved 2011 concert Falling in Love Again returns to the stage with some new twists and moving compositions.
The Chorus will reprise the highly acclaimed one-act opera For a Look or a Touch, by Jake Heggie and Gene Scheer, in a poignant look at two gay lovers torn apart by the Holocaust.
Directed by Intiman Theatre's Andrew Russell, this thoughtful, bittersweet, heart-rending, and ultimately uplifting opera is a soaring tribute to the strength of the human spirit.
Balancing out the concert, the second act will include freedom songs, gay camp and comedy, and beautiful a capella singing of American folk songs and spirituals.
2014 festival pass-holders get an exclusive discount offer!

Also be sure to check out the pre-concert conversation, beginning at 7pm in the lobby of The Paramount Theatre. Enjoy the show!