We had over 200 applications from an amazing group of artists.
We'll announce 2016 Emerging Artists soon! 
The Intiman Emerging Artist Program
is Back!
June 27-August 12, 2016

Intiman seeks the next generation of talented, creative, and diverse theatre artists for the 2016 Intiman Emerging Artist Program (IEAP). This training program is designed to prepare a diverse group of theatre makers for a successful future in the industry.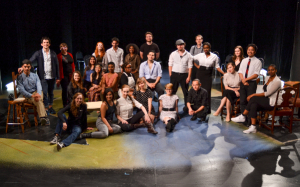 Last year's "emergers" are working with Intiman, Seattle Repertory Theatre, Village Theatre, ACT, 5th Ave, Book-It Repertory Theatre, Seattle Musical Theatre, ArtsWest, Annex Theatre, Taproot, Tacoma Musical Playhouse, Storybook Theatre, D.A.S.H. Center for the Arts, Akropolis Performance Lab, Yellow Fish, The Horse In Motion, The Upfront Theatre, and more.
This summer 20-30 Emerging Artists (including actors, directors, writers, stage managers, and producers) will participate in workshops and masterclasses led by distinguished theatre professionals, receive guidance and mentorship from experts in their field, collaborate with peer Emerging Artists, and gain exposure and connection to the inter-workings of Intiman Theatre. This year's selected Emerging Artists will also create a showcase that features and celebrates great American playwrights who also happen to be black women.
This program is free. Intiman Theatre's goal is to create as much access as is possible to this opportunity regardless of economic status.
The program – IEAP –  runs June 27 through August 12, and is a great way to get a few steps closer to becoming part of the Intiman Theatre "family" and consideration for future festivals. Participants must be available for:
IEAP Intensive Week 1 (Monday, June 27 – Friday, July 1, 8am-9pm)

10am-5pm on Tuesdays and Thursdays, and 10am-4pm on Saturdays from July 5 to 30th

Daytime and Evening August 1-7 for Showcase Presentation

August 9 – 12, Daytime Tuesday, Thursday, Friday for wrap-up and conclusion

Emerging Artists must participate in a minimum of 80% of required activities, and should be able to commit to at least 30 hours per week to the program.

There are also many opportunities to attend local area shows and networking events over the course of this curriculum.
Emerging Artist Program goals include:
1) Recruiting a diverse pool of candidates based on talent and potential. In the spirit of Intiman's mission to "produce theatre that is relevant to our time and as diverse as the community in which we live," and to be a more community-engaged professional theatre, the Emerging Artist Program will train a diverse group of talented theatre artists to lead the next generation. Talented artists of every background, race, religion, gender, ethnic heritage, sexual orientation, socioeconomic status, and ability-level are strongly encouraged to apply.
"That was the most diverse group of people I have EVER in my life interacted with and for that I am truly grateful."
~ Fortuna Gebresellassie, 2015 Emerging Actor
2) Training to prepare artists to work professionally. The Emerging Artist Program will cultivate and train a diverse pool of artists who might not otherwise have access to professional theatre opportunities.
"It is a gift from the theatre gods to have the opportunity to share space with individuals that seek to empower and challenge the status quo, whilst interacting and learning from Seattle's best artistic community. It's worth it. 100%."
~ Mario Orallo-Molinaro, 2015 Emerging Actor
3) Placement within the industry. The final goal of the program is to get participants hired or engaged in future Intiman mainstage productions, or other professional opportunities in Seattle and nationally. This is an ongoing goal with Emerging Artists who successfully graduate IEAP. We want to help you succeed!
"Before IEAP I didn't even know those theatres existed and now I've gotten in front of their Casting Directors. I appreciate all you've done and continue to do."
~ Jéhan Òsanyìn, 2015 Emerging Actor
Emerging Artists Program graduates will gain measurable and quantifiable skills in their selected area of concentration, and complete the program with increased connectedness to Intiman, other theatres, and the greater Seattle Arts Community. Areas of concentration for 2016 IEAP include:
3 Directors – Intiman seeks three directors for the 2016 Emerging Artist Program. Qualified applicants should have 3-5 years directing experience at the community level, or be currently working toward (or a recent graduate of) an MFA program. Aspiring Emerging Directors should also be committed to Intiman's mission. Directors selected will work with Intiman's artistic leadership to direct a piece of material, or a new play written by a fellow emerging artist, that connects to the themes of the 2016 festival. Program participants should be prepared to commit to 30+ hours a week including business hours on Tuesdays and Thursdays. This track is designed for persons who aspire to become professional directors or in some way intersect with the role of professional directing.
"There was an incredible openness and availability from the Intiman Staff – they were constantly engaged with us, in a very active and participatory way."
~ Alice Gosti, 2015 Emerging Director
3 Stage Managers – Intiman seeks three stage managers for the 2016 Emerging Artist Program. Qualified applicants are proactive, responsible, have experience stage managing theatrical productions (or strong organizational/producing skills) or are currently enrolled as a student in a theater-related discipline. Selected Emerging Stage Managers will work directly with an Emerging Director and will also work alongside a Production Stage Manager during the IEAP Showcase. This track is designed for persons who will benefit from observing a proficient director, who desire an opportunity to see behind the Intiman curtain, and who aspire to be professional stage managers, production stage managers, production assistants
"The IEAP is a fantastic and fertile training ground where one can learn the ropes and launch into the orbit of professional theater with a safety net underneath."
~ Pallavi Garg, 2015 Emerging Director
1 Writer – Intiman seeks one unique and talented playwright for the 2015 Emerging Artist Program. Qualified applicants should have experience or training writing for the stage. Applicants will submit one sample script no more than 30 pages in length, that reflects their best work. The writer selected to this program will work in collaboration with Intiman to select a piece that best aligns with their summer programming.
"Seeing my play come to life in ways exciting and unexpected! What a thrill."
~ Anthea Carns, 2015 Emerging Writer
1 Producer – Intiman seeks one detail oriented, highly organized, self-starter to work directly with Producing Artistic Director, Andrew Russell, and Program Producer, Crystal Yingling, to produce the 2016 IEAP and IEAP Showcase. Excellent candidates have production or producing experience or a degree in theatre management or arts administrators and are deeply committed to racial and gender equity. This is a new opportunity for the 2016 program and is a great choice for those who aspire to be producers or artistic administrators. The selected Production Assistant Emerging Artist position requires 10 hours per week beginning in May, and increases to 35 hours per week for the duration of the 7-week program.
"My primary take-away was that I need to find more avenues in which to be an active ally to people of color in theater. My inherent privilege has afforded me the loudest voice in the room, and I need to navigate how to use it in a productive, non-tokenizing manner so that the voices PoC have the same volume."
~ Jordan Moeller, 2015 Emerging Actor
10-20 Actors – Intiman seeks skilled actors with experience holding leading roles in amateur, community, or collegiate theatre and/or supporting roles in professional theatre productions. Ideal candidates are energetic and self-motivated. This track is designed for actors who want to further their studies while also meeting as many people within the Seattle theatre industry as possible. This is perfect for actors that have recently moved to Seattle, actors that want to move to Seattle, actors who want to "step up" to the next level of professionalism and rigor, and actors who want a chance to step outside their ordinary routine and study their craft.
"The Intiman Emerging Artist Program has been pivotal to my development as an artist and has paved the way for me to become much more than just an actor. It is absolutely amazing to me that Intiman was able to arrange all of this at no cost to the artists. The program provides a critically necessary opportunity for underrepresented artists who might not otherwise get a chance…. Intiman Theatre has set a precedent for fostering exemplary, diverse talent dedicated to creating extraordinary theatre."
~ Kevin Lin, 2015 Emerging Actor
Application Requirements:
Priority Application Packets must be received no later than March 4., and must be emailed as ONE PDF FILE to EmergingArtist@Intiman.org or mailed to Emerging Artist Program Producer, 201 Mercer St. Seattle WA 98109. We will continue to accept non-priority applications through March 14th. Complete applications must include: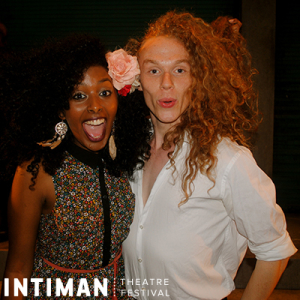 Online Application Form Completed and Submitted: https://www.surveymonkey.com/r/6Q3TRQQ

A one-page letter of intent,

A letter of reference,

Resume,

Work Samples (director & producer applicants),

Two Contrasting Monologues (actor applicants),

Script Sample (writing applicants – no more than 30 pages),

Actor Applicants who will be unable to attend an in-person audition should submit an audition video of no longer than 5 minutes total length along with their application
IMPORTANT NOTES TO APPLICANTS:
Your completed application can either be emailed to EmergingArtist@Intiman.org or mailed to our office at 201 Mercer St., Seattle WA 98109.
If your reference does not want to provide you with an open copy of their recommendation, you may mail their sealed Letter of Reference along with your completed application packet. Recommendations will not be accepted separately from your application.
Provide your Application Packet as one PDF file (work samples or video auditions may be separate), or as a link to your documents in another accessible location.
There are websites that will help you convert your documents to PDF for free. One example is: https://www.easypdfcloud.com/
There will be an opportunity to provide a link to your application materials at the end of the online application form, or you can email the link to EmergingArtist@Intiman.org
Your documents can be stored for free on several websites. Some servers that provide free storage include https://www.dropbox.com/ and https://drive.google.com/.
Note the email address is EmergingArtist@Intiman.org (singular) NOT EmergingArtists (plural).
For Priority Consideration your application must be received by midnight on March 4th.
Applications received after March 14th will not be considered.
You will but notified of our decision no later than May 1, 2016.
Actors selected for audition will receive a sign-up for available audition dates; Directors, Producers, Stage Managers, and Writers selected for interview will be scheduled individually for an interview timeslot.
CALL FOR ADMINISTRATIVE INTERNS 
Intiman accepts applications for Administrative Interns (development, communications, business/administration) on an ongoing basis.
To apply, please send your current resume, a cover letter indicating your area of interest, and three references to IEAP Producer Crystal Yingling.
Intiman Theatre is an equal opportunity employer, and individuals of all cultural backgrounds and abilities are welcome and encouraged to apply for all positions.