Interview with the Dragon Lady Part 2
by Joann Natalia Aquino of Intiman Theatre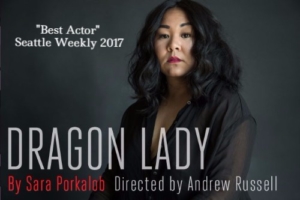 Over brunch in Seattle on a Monday morning, I met with the Dragon Lady, the title character of our next show, to learn more about her, and in turn, for us to learn about Intiman's upcoming production. In Part 1, the Dragon Lady shared why she came to America and about her early life in this country as a new American. Here, she eases up and shares her secrets to staying young, her daily routine, and the dream that she holds on to. Read on.
What is your secret to staying youthful and looking good?
Ay, babe. Looking good? You don't even know that these teeth are dentures, you know that. They had to pull my bottom teeth, and my dentist, ay, he's so handsome… Anyway, how do I stay young? I always say my prayers every day. I make sure to say prayers for my family, for their good health. I also pray for the people who have sinned against me. I pray to Jesus to give me the strength to not go after the people who have sinned against me… I eat rice and eggs, and I don't drink that caffeine, don't have that. I'm in the garden every day ― fresh air is good. But then my neighbors come out and they start talking to me, and I'm like, "Go away, I don't even like you." But I have to pretend like I don't know how to speak English so they leave me alone. So fresh air, no coffee and prayers.
Do you have a daily routine? And if so, what are those?
Oh yeah. Every day I do my stretches. I do something that's kind of like Tai Chi, but not really ― it's like pretend Tai Chi. I do it anyway. It makes me feel good. So I do my stretches, I touch my toes, I clean my house. I watch the news, you have to stay up to date on that. I watch the TFC (The Filipino Channel), I like to watch my shows and my soap operas. That is my routine. I mind my business. Nobody has a reason to bother me, I don't bother them. Unless they piss me off then I kill them, but that hasn't happened in a couple of years…
What is a dream that you still hold on to?
Ay, I want to have my own YouTube Channel. My grandbaby Sara, she's always on that Facebook and that Instagramming. She texts me and she laughs because she is laughing at how I use slangs like LOL and and what is that other one? L, M, A, O… Laughing My Ass Off? Ay my God, she is so funny! But I want to have my own Youtube Channel and to bring all my original songs to the YouTube Channel and have people watch me and say, "Oh my God, that old lady can sing!" And I want to record my songs on the record and I want to go to Broadway with my granddaughter doing the show. I also want to buy my family a big house so we can all live in it, but not always around each other because that would be crazy, we would end up killing each other ― but at least in the same building so we could walk down the hall to say hello. That is my dream of all things. That is what I would like to have.
"I mind my business. Nobody has a reason to bother me, I don't bother them. Unless they piss me off then I kill them, but that hasn't happened in a couple of years…"

60 YEARS. 3 GENERATIONS. 1 FILIPINO GANGSTER FAMILY.
September 5 – October 1, 2017
---
Want to learn more about the themes of the show? Join the Community Talk Back Sessions every Sunday after the show.
Sunday, September 10: Celebrating Grandmother's Day/The Value of Intergenerational Relationships. September 10 is Grandmother's Day! Intiman is offering a free ticket to your/a grandmother with a purchase of a ticket. Buy a regular ticket online and the complimentary ticket to your/a grandmother will be honored at the door. To ensure a seat, email boxoffice@intiman.org
Sunday, September 17: A Conversation on Activism and Human Trafficking
Sunday, September 24: How to Create for Social Change
Sunday, October 1: Celebrating Filipino American History and Kicking Off the October Filipino American History Month! Community Partners: Filipino American National Historical Society (FANHS), Pride Asia, Hood Famous Bakeshop
​All DRAGON LADY ticket holders can attend any of the Community Talk Backs.