Veteran Seattle actor Charles Leggett is a familiar face at Intiman and member of last year's repertory company (Narrator, Stu for Silverton; Phlaccidus, Lysistrata). A three-time nominee and 2009 recipient for the Gregory Award for Outstanding Actor, Charles has been seen on many a Seattle stage, including Seattle Children's Theatre, Book-it Repertory Theatre, Village Theatre, and 5th Avenue Theatre.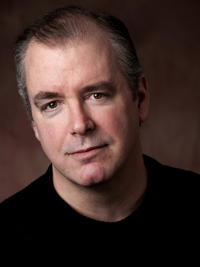 This year Charles joins us to portray Roy Cohn, a powerful, closeted gay lawyer diagnosed with AIDS (based on the real-life Roy Cohn, a controversial attorney who insisted to his dying day that he suffered from liver cancer).
Fun Fact: Charles' poetry has appeared or is forthcoming in 24 publications nationwide and has twice been nominated for the Pushcart Prize.
How did you first encounter Angels in America?
I don't recall exactly how I first learned of Tony Kushner's play.  I have never seen it onstage, but I did see the HBO version not long after it became available for rental.
What's the most challenging role you've tackled?
Most challenging has probably been playing Shylock in The Merchant of Venice (Seattle Shakespeare Company); although, for very similar reasons, Lennie in Of Mice and Men (Seattle Repertory Theatre) was every bit as much so. They are two men whose experiences of the world are almost completely alien–not only to me, but to everyone on the stage with them.
The technical demands, of course, are very different: In Lennie there is this developmental disability, regarding the exact nature of which Steinbeck says vexingly little; in Shylock, one has an entire religious worldview to wrap one's mind around, and also, as his tragedy unfolds, a tremendous level of stress.
What do you love to do in Seattle?
Taking in the culture available in this city, in which I am so fortunate to participate, is what I like to do here. The last month or so, for instance, I got to:
Read a gorgeous little preview snippet of a new Yussef El Guindi play at the Sandbox One Act Play Festival rent party;
Read several roles in an adaptation of Lindsay Hill's new novel Sea of Hooks, an ACT Central Heating Lab venture;

Take the Vashon Island ferry to shoot a scene as the Pope in the hilarious new web series Capitol Hill, featuring Marc Kenison (aka "Waxy Moon");

See beautiful, strong productions of Samuel Hunter's A Great Wilderness at the Seattle Rep, Richard II at Seattle Shakespeare Co., and Strawshop's The Normal Heart;
Participate in the eleventh installment of the Sandbox Radio Hour;
Rehearse tunes I'll be playing with local jazzman "Guitar" Gil Menendez for a poetry event hosted at ACT by Alaska's Cirque Magazine called "Seattle – Saginaw: The Reach of Theodore Roethke";
And, certainly not least, drink (!!!) with my friends and colleagues at my favorite bars, whether in Lower Queen Anne (Solo, of course!), or up on the Hill at St. John's or at Sun Liquor.