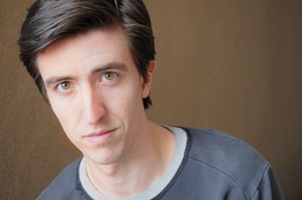 Adam Standley is a recent familiar face at Intiman, performing in three of last year's festival shows (Stu for Silverton, Trouble in Mind, We Won't Pay! We Won't Pay!).
He has also worked with award-winning casts at Seattle Children's Theatre, Seattle Shakespeare Company, and the Washington Ensemble Theatre, and he is a founding member of the Satori Group.
Adam will portray Prior Walter, who begins the play with a committed boyfriend (Louis) and a crushing diagnosis (AIDS) and goes on to become the recipient of several heavenly visions.
Fun Fact: The Satori Group, which Adam co-founded, originally got its start in Cincinnati.
How did you first encounter Angels in America?
I read Angels in America my freshman year in college. I was asked to do a large report on it, and I always felt like it I was cheating cause I was so enraptured with the play. Like I was afraid that my teacher was gonna find out that I was enjoying myself, and make me switch it up or something. I then watched a video of my college's production of it, which was top-notch and starred, interestingly, a female Roy Cohn, who had all the power of a titan. I will say that it's one of those plays that I read and see the play onstage as I'm reading it.
What's the most challenging role you've tackled?
There'd probably be an argument for either the Marquis de Sade in Doug Wright's Quills, or Keith Harring, the line artist from the 80's, in a musical called Radiant Baby. The Marquis was an exercise in exposure and storytelling. He knew something about how the human mind wants the next bread crumb, and it was a real lesson in anticipation.
Keith Harring was a beautiful and selfish man. As an actor, being selfish onstage is tricky because it contrasts with the work of the actor, which is rooted in the other. Challenges in roles though are when it's good. I think most actors know what I'm talking about when I say that it's much more dangerous when you are generating challenges to keep alive onstage. Prior, I'm sure, will be rich in challenges.
What do you love to do in Seattle?
I love to watch my dog at Marymoor Park. He's a hunting dog in breed, and there's something classically satisfying about watching him bound through tall grass after something. My partner, my dog and I on park day, not much better.