Intiman Theatre presents
$17,768 check to Fred Hutch
Angels in America audiences give generously
to support HIV vaccine research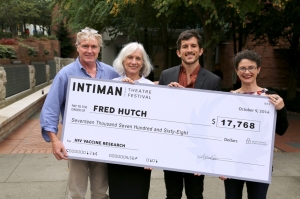 SEATTLE – October 10, 2014 – Intiman Theatre's Andrew Russell and Christine Bateman presented Fred Hutch's Dr. Jim Kublin and Dr. Julie McElrath Thursday with a check for $17,768 – the total funds raised by Intiman and its audiences at recent productions of Angels in America, Tony Kushner's epic two-play masterpiece about the devastating outbreak of HIV in 1980s New York City.
The ceremony was the culmination of a festival-wide partnership between Intiman and Fred Hutch to raise community awareness for Fred Hutch's international research to find a preventive HIV vaccine.
"Intiman Theatre is committed to connecting the work on stage to reflect the community in which we live, and all of us at Intiman are proud to have been part of such an innovative and fruitful collaboration between two vibrant Seattle nonprofit organizations," said Producing Artistic Director Andrew Russell.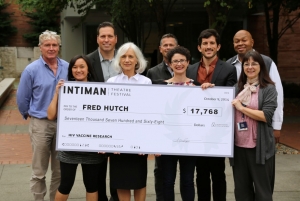 "I am thrilled that our audiences responded in an incredibly generous way to support Fred Hutch's HIV vaccine research, and am particularly grateful to the team of eight actors who collected donations after every show."
Intiman's 2014 festival, THE ANGELS PROJECT, was a six-month series of events that drew more than 9,000 audience members; featured two mainstage repertory productions, one intern showcase, and 10 artist partner programs; and welcomed more than 300 patrons through donated tickets to local nonprofit partners, including Lifelong AIDS Alliance, Gay City Health Project, and the HIV Vaccine Trial Unit Seattle.
In addition to raising funds at performances, this unique collaboration included:
A Fred Hutch laboratory visit by Intiman cast and crew to learn about the latest HIV vaccine research;
An Angels rehearsal visit by Kublin, one of Fred Hutch's leading scientists, to share his personal experience in New York during the early years of the AIDS crisis;
A Fred Hutch information table in the theatre lobby for audiences to learn more about HIV vaccine research and the current state of HIV/AIDS in our city and our world; and
A staged benefit reading of The Normal Heart, performed on the Fred Hutch campus.
A comprehensive report of the 2014 festival and the 2015 festival announcement will be released later this year.
Photo Credit: Robert Hood / Fred Hutch News Service
Contact:
Christine Bateman, Director of External Relations
christine@intiman.org | (206) 726-5104