Intiman Theatre Announces
Valerie Curtis-Newton as Co-Curator
of the 2016 Intiman Theatre Festival
Curtis-Newton will partner with Intiman's Andrew Russell to program festival dedicated to black female playwrights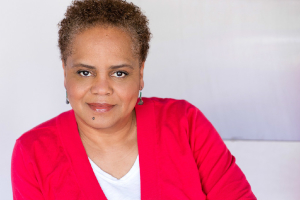 SEATTLE – November 14, 2015 – Award-winning director and University of Washington School of Drama professor Valerie Curtis-Newton will serve as co-curator of the 2016 Intiman Theatre Festival, which will be devoted to great American playwrights who are also inter-generational black female writers.
Playwrights under consideration for the 2016 festival include Alice Childress (Trouble in Mind), Lynn Nottage (Ruined), and Katori Hall (The Mountaintop).
Intiman will produce these plays in a variety of venues throughout the greater Seattle area, working closely with community partners and venues with long historical roots in the community.
"As a theatre for the public good, it's our mission to reflect on the stage what is happening in our city and our world," said Producing Artistic Director Andrew Russell.
We're having critical conversations right now – locally and globally – about race and equity: how we see ourselves and others, how we communicate across our differences, how we develop empathy and compassion for others.
"Valerie Curtis-Newton has been a powerful voice in these conversations, and I'm proud to partner with her – my longtime friend and fellow artistic leader – in programming what will surely be an extraordinary and thought-provoking festival."
"I believe Seattleites are hungry for work that pushes us beyond conversation. I want to meet them in that challenge by adding to the richness of our vibrant culture through the work of these amazing writers," said Curtis-Newton.
There is a long line of powerful playwrights already out there – like Childress, Nottage, and Hall – women who have written great American plays and who deserve to be recognized and celebrated. I am honored to do just that with Intiman.
For interviews, information, and high-resolution photography, please email Christine Bateman or call (206) 726-5104.
About Valerie Curtis-Newton
Currently the Head of Performance – Acting and Directing at the University of Washington School of Drama, Valerie Curtis-Newton also serves as the Artistic Director for The Hansberry Project, a professional African American theatre lab. She has previously served as Artistic Director of both Seattle's Ethnic Cultural Theatre and Hartford's Performing Ensemble, Inc.
Curtis-Newton's credits include three recent productions with Intiman – All My Sons (2011), Dirty Story (2012), and Trouble in Mind (2013) – as well as the premieres of Constance Congdon's The Midwife's Apprentice and Kia Corthron's The Venus De Milo Is Armed and Slide Glide The Slippery Slope. In spring 2016, she will direct a new production of Trouble in Mind at the Guthrie Theater.
In 2014, Curtis-Newton was awarded both the Stranger Genius Award in Performance and the Crosscut Courage Award for Culture.
Contact:
Christine Bateman, Communications Director
christine@intiman.org | (206) 726-5104
# # #