"If you want to do something, you have to do something."

—  Lorraine Hansberry, American playwright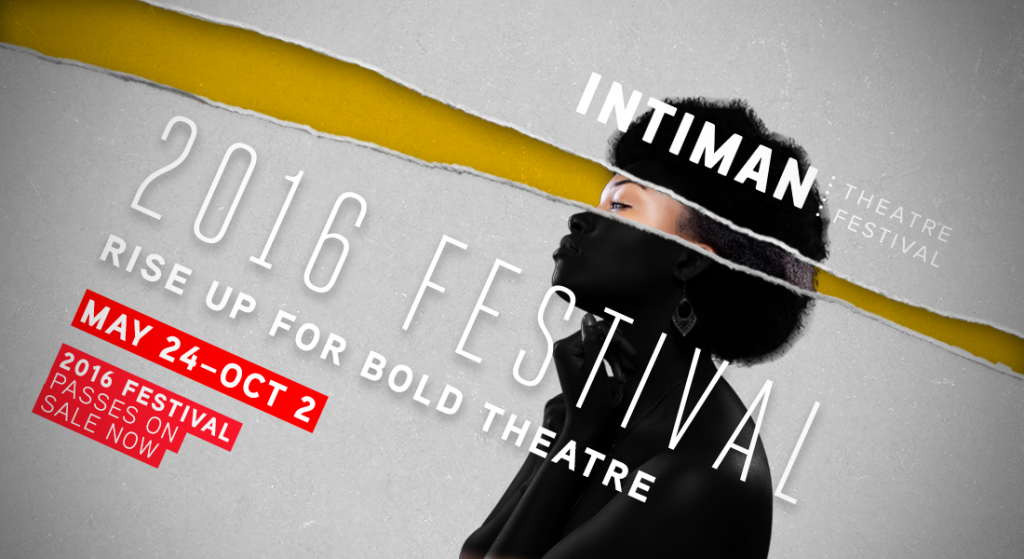 Wedding Band | Emerging Artist Showcase | Wedding Band: A Love/Hate Story in Black and White 
Festival Lineup
Intiman Theatre is proud to produce a festival driven by the community. In response to a demand for more stories from bold, diverse voices we are presenting great American Plays by Black women for our 2016 Festival.
From May 24 – October 2, Intiman Theatre and partner organizations will make it possible for you to experience almost 20 plays through professional productions, training programs, readings and workshops
Intiman Theatre's festival co-curator Valerie Curtis-Newton is helping lead our 2016 Festival with a focus on strong storytelling and community connection.
"Intiman is one of my artistic homes so doing this work with them is a special joy," said Curtis-Newton. "Together, we are going to create a moment worthy of national attention. One that says these writers are valued – even in the 5th whitest city in the country. That says 'Look at how rich the fabric of our community is. Look at how we embrace the challenge of bridging our differences. Look at how we are willing to face the fear around confronting the issue of race.' We believe that the stories these writers tell are important for everyone to hear. And we are just brave enough and just crazy enough to take the leap."
FESTIVAL PASS SALES ARE CLOSED
You can still join us for our 2016 Festival! Take a look at our upcoming events.
Festival Lineup
MAY 24–JUNE 19
Stick Fly
by Lydia R. Diamond, a major production 
Click for details
September 6–October 2
Wedding Band: A Love/Hate Story in Black and White by Alice Childress, a major production Click for details
Through a special partnership with The Hansberry Project:
July 12-16
Can You Hear Me Now?: Contemporary Plays by Black Women  Click for details
July 17-18
UN-TAMED – Hair, Body, Attitude (Short Plays by Black Women) Click for details
September 24
Black Women Wisdom: A Public Conversation Click for details
 * Passholder tickets are Will Call only. When you arrive at the theatre of each performance,
just go to the Box Office and your tickets will be there for you.
Experience two major American plays
Included in the wide variety of offerings this year are two major professionally produced plays featuring local artists, actors and directors — Stick Fly by Lydia R. Diamond and Wedding Band: A Love/Hate Story in Black and White by Alice Childress.
Stick Fly is a moving and wickedly funny play that invites the audience to peer into the vacation home and life of an affluent African-American family as two brothers introduce their girlfriends to their parents for the first time — at the same time. The LeVays' relaxing weekend takes a turn as family members clash during conversations about privilege and class and secrets unravel.  Learn more. 
Wedding Band: A Love/Hate Story in Black and White  tells the story of lovers – Julia, a black seamstress, and Herman, a white baker – who want to marry in the Jim Crow South. The play poses the question: Can we be strong enough to tell the truth to each other and still love? Learn more. 
See 2016 Festival plays on a different stage
This year you will also have the opportunity to experience our major plays in two different venues that have strong historical roots in the community — the Langston Hughes Performing Arts Institute, in partnership with the Office of Arts & Culture, and the Floyd and Delores Jones Playhouse at The University of Washington. These two institutions are considered incubators for their respective communities and provide space for dialogue.
Help us diversify theatre in Seattle | Emerging Artist Program and Showcase
When you purchase a Festival Pass you are also helping Intiman Theatre reach its goal of diversifying the theatre industry and creating opportunities for upcoming artists through our Emerging Artist Program.
In this program, we will feature the next generation of talented and creative theatre artists at Meet Adrienne Kennedy, a Showcase Production for the public that highlights the works of celebrated playwright Adrienne Kennedy. The artists will receive insight into the professional theatre industry, gain skills and make strong connections with the Seattle theatre community. 
This important program focuses on recruiting from a diverse pool of candidates based on talent and potential and is free for participants. Regardless of the economic status, we want our emerging artists have an opportunity to grow and find their place in theatre. Learn more. 
Priority access to the next great American play | The Hansberry Projects
Festival Pass holders will have the opportunity to experience about 10 new plays by Black women that are sure to become American classics. Valerie Curtis-Newton — co-curator and Artistic Director of The Hansberry Project — is hosting additional events and readings to deepen the experience of our 2016 Festival. For a week in July The Hansberry Project, with support from Intiman Theatre, will produce a reading series featuring professional actors in an intimate setting called The Hansberry Projects: The Next Great American Plays. You will also be given early access to an exclusive conversation with Valerie Curtis-Newton and some of the major American voices that we are celebrating during this festival. As a Festival Pass holder you will have the opportunity to be among the first to reserve your seat for these readings. Learn more.